D&A College launches heavy electric vehicle course with McGill's Bus contract
Dundee and Angus College has launched its heavy electric vehicle training programme for businesses by announcing a partnership with McGill's Bus Services, Scotland's largest independent bus company, whose technicians will be the first to undergo the training. 
This announcement comes as Education Scotland's latest review highlighted last week that Dundee and Angus College is shaping programmes to meet the needs of employers and industry, ensuring that regional skills engagement is being made a priority. 
McGill's Group has already begun transitioning from fossil-fuelled to electric, battery powered buses, having launched its first fully electric route in September 2021. The vocational training provided by Dundee and Angus College will give McGill's technicians the skills to safely maintain and repair their electric bus fleet.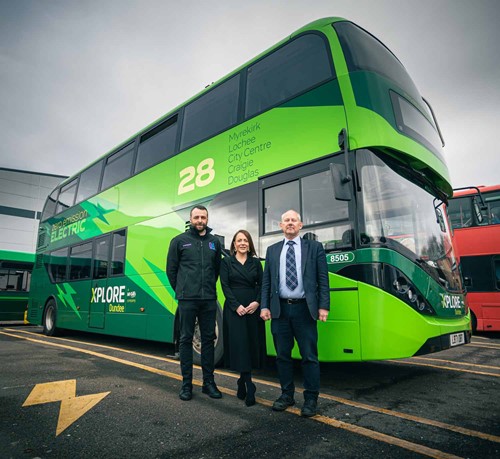 (L-R): Stephen Swinley, Head of Curriculum and Quality for Engineering at D&A College, Caryn Gibson, Business Partnerships Manager at D&A College, and Frank Sheach, Engineering Manager at Xplore Dundee.

Technicians at Xplore Dundee, the Dundee-based arm of McGill's which operates the buses within Dundee City, have already begun their training along with technicians from the McGill's Johnstone depot and will be expanded in future to technicians from the Inchinnan and Greenock depots.

The training encompasses levels 2 and 3 of the heavy electric/hybrid qualifications covering routine maintenance and vehicle system repair and replacement, all of which are crucial to maintain this vital and greener form of public transportation. 

Dundee and Angus College has gained a reputation in being a leading electric vehicle training provider as it supplies this training to all three of Scotland's primary emergency services which allows their technicians to work safely on their own light vehicles. The level 2 and 3 training is also recognised by The Institute of the Motor Industry, certifying that Dundee and Angus College maintains the very highest of teaching standards when providing these greener training skills to businesses. 

Having seen great strides in its light electric vehicle courses with uptake from a number of garages across Tayside and Angus, Dundee and Angus College decided to invest into its staff, training them in order to be able to offer heavy electric vehicle programmes to businesses across the country. Scotland's ambitious aim to achieve Net Zero by 2045 will see the increased need for electric vehicle maintenance and repair training as supply chains in many industries make the transition to electric heavy vehicles from their previous fossil-fuelled counterparts.  

With a growing number of electric buses across McGill's fleet, expected to sit at 109 nation-wide this year, the bus operator has made a significant investment into reducing its carbon footprint, improving air quality in cities and creating zero-emission public transport. 

Frank Sheach, Xplore Dundee's Engineering Manager said, "As part of the McGill's Group, Xplore Dundee has a vision for a cleaner, greener fleet on the city's bus network. Part of that vision is ensuring that our technicians have the highest standard of expertise and knowledge in order to provide the best level of service for the public possible. We are delighted to join forces and work with Dundee and Angus College as our heavy electric vehicle training provider."

Caryn Gibson, Business Partnerships Manager at Dundee and Angus College said, "Meeting the training needs of employers, particularly in green skills as we move towards Net Zero, is very important to us here at D&A College. 

"This is why we have invested into our own team to ensure that we can deliver this heavy electric vehicle training that will most certainly be in demand as the number of electric vehicles on the road and in supply chains increases. We are thrilled to launch the course by working with McGill's and look forward to providing it to many other employers in the future as they make the switch to electric." 

For more information, visit our Electric/Hybrid Vehicle Training page here - dundeeandangus.ac.uk

}