Computing & Creative Media
Do you love technology? Are you a problem solver? Do you want a career in a fast-moving and dynamic industry? The Digital sector is facing a skills shortage and the Computing and Creative Media team want to help you find a well-paid and rewarding career with excellent prospects.
Our courses span the range of Computing fields, from Software, Web and Games Development to Networking and Cyber Security. We have strong links with industry and many articulation routes into University. The department boasts excellent facilities and equipment, including our state of the art Cyber Lab.
On our courses you will learn a range of skills using contemporary software packages. You will develop not only your technical ability, but team working and problem-solving skills, which are essential in the workplace. Our industry partners give talks and get involved in events such as our annual Game Jam and Web Jam to give insight into what you can do beyond your studies. Our students take part in industry competitions such as WorldSkills.
This is the perfect time to join an exciting and fast-moving industry, in a department committed to help you achieve.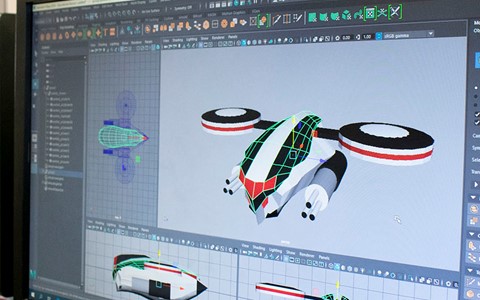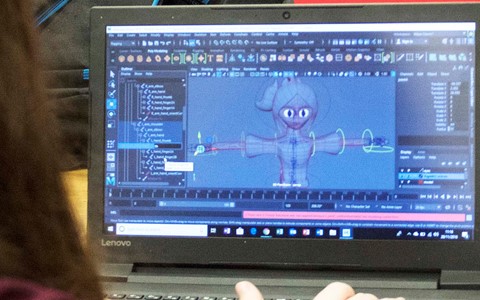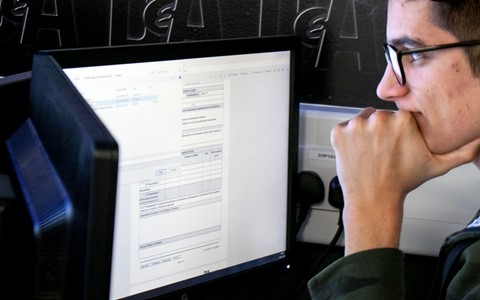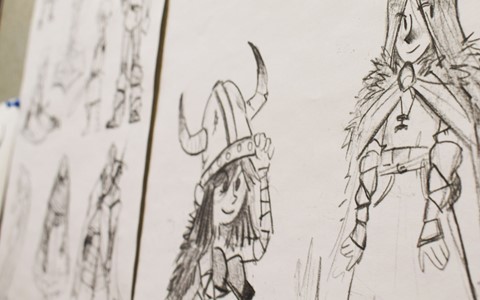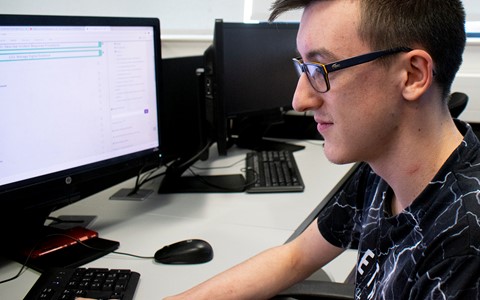 I felt I had found a new career path I could focus on.

Shannon Brown,

Computer Science
Computer networking was something I'd never considered prior to this course but it ended up being something that I was good at and really enjoyed.

Claire Beattie,

NC Digital Media
I enrolled on an Introduction to Computing course which spiked my interest further. After I completed this course, I successfully applied for HNC Computing.

Jack Grieve,

HNC Computing
I had an offer from Dundee University but made the decision to go to college instead.

Steven Elder,

HNC Computer Networking
Shannon's Story
Shannon Brown had no idea what she wanted to do after she left school.
"All I knew was that school wasn't for me. I'd always received better grades in the more practical subjects so I decided college could be the next step in my education."
Shannon opted for an HNC Animal Care course at Dundee and Angus College but then decided she didn't want to pursue that as a career.
"I was worried I had chosen the wrong path but when I looked through the many courses on offer I decided to sign up for one on IT Computer Science even though I had never done IT as a subject at school. The course covered a wide range of areas so I could pinpoint the aspect that interested me most."
As Shannon's year came to a close an apprenticeship opportunity arose which allowed her to gain hands-on experience.
"This was perfect for me as I could learn while earning a wage and working towards a qualification with the college. I feel the apprenticeship course and work experience will open many doors for me in the future."
Claire's Story – Second chance at College helps Claire succeed   
Claire Beattie's journey with Dundee and Angus College began back in 2009 when she applied to study NC Digital Media in the hope of establishing a career in computer game design. Claire soon realised that computer programming wasn't right for her, instead discovering a talent for computer networking.   
"Computer networking was something I'd never considered prior to this course but it ended up being something that I was good at and really enjoyed. This led me onto the HNC Computer Networking course in 2010."    Unfortunately, due to personal circumstances, Claire had to leave the course at the start of her HND. Determined to complete her qualification, she reached out to Dundee and Angus College in 2014 to ask if she could recommence her studies. She then rejoined the course following the successful completion of her Cisco modules.    While Claire enjoyed the whole course, the aspect she found most beneficial was gaining practical experience in the building labs.   
"My favourite part of the course was being able to get hands-on in the lab. I learn better by 'doing', and D&A College had labs that were accessible to us during our classes which allowed us to build on our knowledge."    Claire's efforts at Dundee and Angus College led to her being awarded a student prize, something she is particularly proud of:   
"In 2010 I received the Student of the Year Award for the computing department. I was both surprised and very happy to have been awarded this. The award takes pride of place on my desk at home."    Claire successfully achieved her HND Computer Networking qualification and is currently working as a Networking Engineer for Brightsolid, a Dundee based data centre that offers cloud solutions to the public and private sectors.
Jack's Story – Jack cracks the code to success   
When Jack Grieve left the army in 2017, he had no idea what he wanted to do next. It was his lifelong interest in computers that eventually prompted him to apply to Dundee and Angus College to pursue a career in the computing industry.   
"I left school at 16 so didn't have the qualifications needed to get onto the HNC Computing course," Jack explains. "Instead I enrolled on an Introduction to Computing course which spiked my interest further. After I completed this course, I successfully applied for HNC Computing."   
Jack quickly settled back into formal education and relished the challenges that college provided.   
"Leaving school at 16 and starting college at 24 left me with a huge gap in my education but my lecturers really helped me dust off those forgotten skills. At the start of the HNC I struggled with programming as it was completely new to me, but I soon got the hang of it and now really enjoy it."   
His proudest achievement during his time at college was competing in the IT Support World Skills UK Competition and finishing in an impressive third place.   
Jack is now in his third year at Abertay University studying ethical hacking. In addition to his studies, he keeps busy with not one, but two jobs!   
"Alongside studying, I work for The Scottish Business Resilience Centre as an ethical hacker. I have also been working as a lab assistant at Abertay University assisting in teaching penetration testing to veterans. This job allows me to assist veterans and members of the armed forces community begin their InfoSec careers." 
Steven's Story – College gave Steven a head start!    
In 2016 Steven Elder turned down a university offer, instead choosing to enroll on Dundee and Angus College's HNC Computer Networking course.   
"I had an offer from Dundee University but made the decision to go to college instead," Steven explains. "I knew this route wouldn't delay my overall career progression as I would be able to enter university in year 2 following the successful completion of my course. The college offered not only an academic qualification, but a Cisco CCNA industry qualification. I knew this would put me head and shoulders above my fellow graduates on completion of my university degree and would be key to securing a job upon graduation. It was a no brainer!"   
As he was studying alongside a full-time job, Steven felt more comfortable with the less intensive learning experience that college provided and highlights the support he received from his lecturers as being one of the most beneficial aspects of his college experience.   
"The environment we learned in was positive and the teaching staff were supportive. The lecturers were able to demonstrate various techniques that enabled me to gain a greater understanding of the topics and find a method that worked for me. This knowledge has proven invaluable in my current role today."   
One aspect of the course that Steven was pleasantly surprised by was the unit that focused on teamwork and projects.   
"This area of study allowed me to gain vital project management skills and taught me how to work with different characters and personalities. I learned how to deal with conflict resolution and managing others time keeping when working on projects; something which is useful on a day to day basis in the real world."   
Steven is currently working in the Cyber Security Sales Team at BT. He is responsible for the management of relationships and sales activities between cyber security specialists and the teams who look after customers' accounts. His aim is to continue progressing within the cyber security industry by keeping his knowledge of the ever-changing threat landscape up-to-date.