Business & Administration
There are no boundaries in the world of business – the skills you learn at Dundee and Angus College can lead to all kinds of careers. As one of the largest business training providers in Scotland, we offer a modern range of courses within business such as: management and leadership; business administration; human resource management and marketing and PR. These courses are designed to provide a broad understanding of business organisations and the environment in which they operate.
You will gain a range of knowledge and understanding that is highly sought-after by employers, including: marketing; economics; IT; communication; business accounting; HRM; management and leadership.
Our courses aim to provide you with the skills required to analyse and assess practice in the context of business management and business administration, whilst developing your personal communication and reflective learning skills to make you efficient and effective in any business environment.
The diverse nature of the courses will ensure that you are equipped to undertake a variety of business-related job roles or progress onto further studies.
Why Study Business & Administration?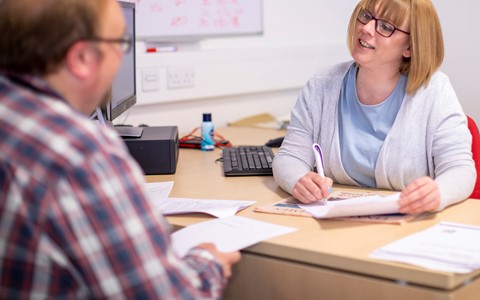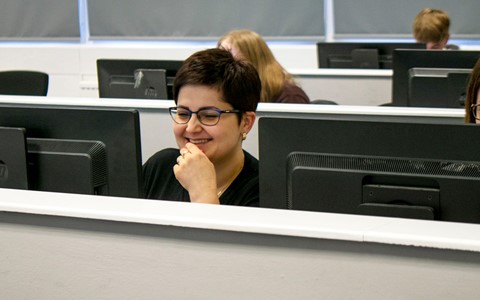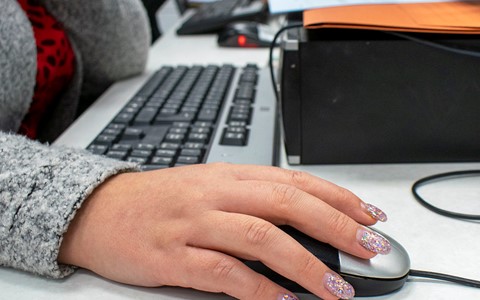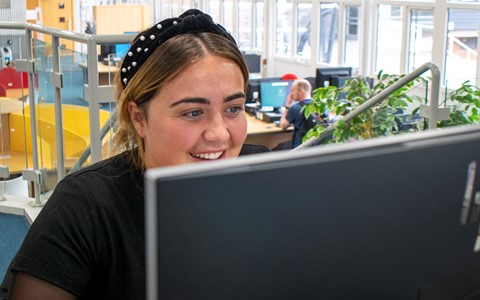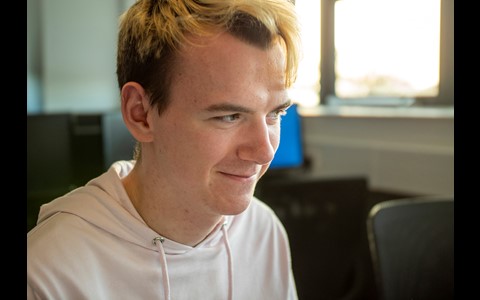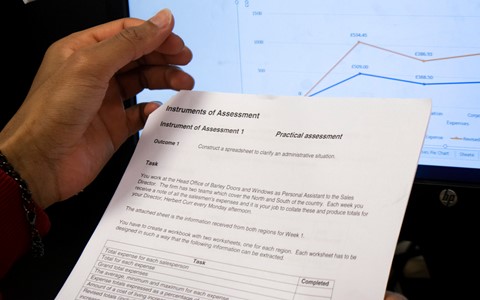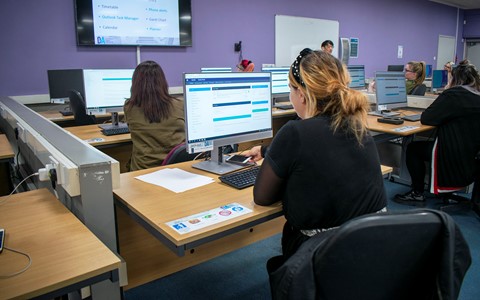 The lecturers supported us through our studies treating us like adults but we knew there was always help there if needed.

Kieran Fyfe,

HND Business Management
I studied for an NVQ 3 and then an NVQ 4 in Management. I was able to do the courses at work with visits from my tutor and felt they helped make me more professional in my current role.

Beth Mackie,

Customer Services Supervisor, Fife Country
At the age of 37 I applied for an NC course in Administration. I continued on to an HND and learned to use spreadsheets and databases along with best practice for running an office setting.

Kerry Lowe,

Administration and IT
Kieran's Story
Kieran Fyfe left school after he sat his Highers in fifth year.
"I was only 16 so I thought I would come to college first before going to university to prepare me for the change. I only planned on staying for one year but I liked it so much that I decided to stay on to do the HND Business Management course too."
During his two years at Dundee and Angus College Kieran was prepped for the world of business.
"We were introduced to a lot of different aspects such as marketing, human resources, accounting and IT," says Kieran. "We were able to gain great insights to many areas of business and I really feel the courses built the foundations of who I am now as a business professional."
Kieran progressed to a role as a Junior Global Project Manager with NCR while studying BSc Business Management at Dundee University on a part-time basis through his work.
Demie's Story
After leaving school Demie Carr studied Beauty Therapy for three years at Dundee and Angus College.
"The college was the best platform for me between high school and university. I didn't feel confident enough to go to university but I still wanted to continue with my education. The main thing the college gave me over the years was the encouragement to push myself and go beyond my comfort zone both in a personal and academic sense."
Demie decided to change career path and studied HND Administration and IT at college then a BA (Hons) Business and Human Resource Management at Abertay University.
"In my time at university, I was presented with the Principal's Award for Employability, an award for outstanding academic performance and also represented the university at the Scottish Parliament."
Madalina's Story
Madalina Ormenisan came to the UK from Romania and worked as an au pair to help improve her English language skills.
"I applied to study for an HNC in Events Management at Dundee and Angus College where I gained some work experience from the Events Executive Team at the Apex Hotel. I also had the chance to organise a Red Nose Day event within the Wellgate Shopping Centre which allowed us to come together as a class to arrange various small events to raise money for the charity."
Madalina then studied for an HND in Administration and IT.
"The course focussed on learning how to use the Microsoft Office suite at an advanced level, how to manage people and organisations, basic finance and other related modules. I was offered the opportunity to do volunteering for the School of Medicine at the University of Dundee which helped boosting my employability skills."
Madalina then studied for a BA (Hons) in Business Management at Abertay University.
"This enabled me to further develop the skills and knowledge I learned in college. I was selected for the Saltire Scholar Internship Programme through which I had the opportunity to intern with GlaxoSmithKline, one of the largest pharmaceutical companies in the world."