Performing Arts
Join our Performing Arts department where we aspire to support each learner to find their own style and individuality.
We have purpose-built studios that foster creative and practical learning while providing a supportive environment in which to thrive. Learners have the opportunity to showcase their skills in public performances in our award-winning theatre, The Space.
Our highly experienced practitioners and lecturers offer a wide variety of specialisms. There will be opportunities to gain industry-relevant experience to help prepare you for the world of work. We are delighted to have professional industry links with our Associate Artist; Shaper/Caper, our Creative Partner and Scottish Dance Theatre, our Associate Company.
The quality of our department has gained national recognition and we continue to offer a high level of both practical and pastoral support to help individuals get the best out of their training and to guide them to future development and career opportunities.
Whenever possible we opt for active, hands-on, practical learning that is both explorative and creative. In addition, there is a range of exciting and inspiring optional masterclasses, workshops and other performance opportunities available for learners at all levels.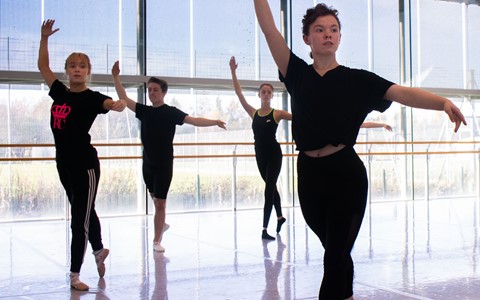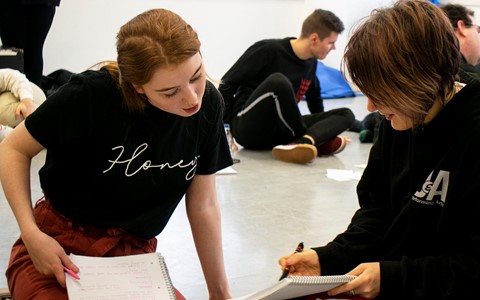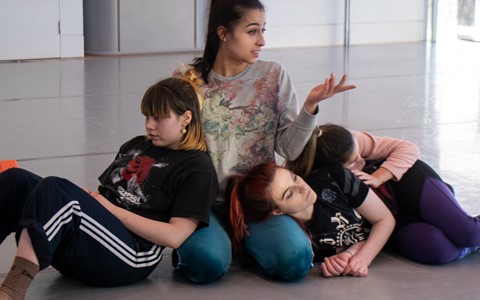 During my time at The Space I worked with a number of different choreographers and tutors that really helped shape me into the dancer I am today.

Glen McArtney,

Dance Development officer for Dundee City Council
I have learned a lot about myself and also learned a lot more about acting and performance that I never knew existed.

Shannon Heenan,

Acting and Performing
The Scottish School of Contemporary Dance offers the possibility to develop the learners' creativity in a nurturing and supportive environment, at a time when Dundee is redefining itself through the arts. 

Joan Clevillé,

SSCD Associate Artist
At Dundee Rep and Scottish Dance Theatre Ltd, we always enjoy finding ways to support students from the Acting and Performance course on their learning journey.

Gemma Nicol ,

Head of Rep Engage, Dundee Rep Theatre
Glen's Story
Glen McArtney had never danced before joining the Scottish School of Contemporary Dance but, with the support of his tutors, he quickly gained confidence and knowledge.
"There was an offer to move to London during my studies but I decided to stay at SSCD because I felt it best suited my needs at the time and I wasn't wrong. I would recommend The Space to anyone who wishes to further their own dance skills and believes if they work hard they can be as successful as they want to be within dance."
Upon graduating Glen was offered a place on the Transitions course at Trinity Laban, an apprenticeship with Motion house and a contract with Plan B Dance Company. He now works for Dance Development at Dundee City Council.
Shannon's Story
When Shannon Heenan began her acting course in 2015 she only had musical theatre experience.
"I threw myself in at the deep end and managed to get myself into the HNC with no theory experience behind me. Two years later I graduated with an A in my graded unit. The training you get here is incredible. You focus on stuff like movement, stage combat, acting skills, Stanislavski, voice, breathing, devising and much more."
After leaving college Shannon was selected to be part of the NHS Schools tour.
"We had three weeks to create and rehearse a show that is designed for third year students, allowing them to understand that the NHS has so many services for young people that they can gain help from."