Animals, Land & Environment
If being outdoors and working in the natural environment is your thing, have you considered a career in horticulture or agriculture?
If you are "into animals" we have courses at every level for a range of interests which include practical and theory and even working with zoo animals.
Agriculture, Estates and Horticulture
Our courses in Agriculture and Estates (level 4) and Landscaping with Horticulture (level 5) are aimed at those who want to be working outside, with their hands and getting involved with nature.
Agriculture involves an understanding of the environment and production of food and crops as well as working with machinery, this course is combined with Estate Skills where you will learn some landscaping techniques and maintenance such as fencing and repairs.
Our Landscaping course includes production of plants, garden design and hard landscaping skills such as brick work, slabbing and working with construction materials.
We also offer work-based programmes in the form of Modern Apprenticeships.
The aim of our Horticulture and Agriculture programmes is to enable you to progress into the world of employment, though some learners may choose to study at higher levels with other organisations such as SRUC. You can even progress to study HNC Horticulture at UHI through distance learning and come into our Kingsway Campus for support and to carry out your practical work.
Animal Care
In Animal Care, our programmes are available at all levels with our level 3 programmes requiring no previous experience and being very hands-on, all the way up to HND at level 8 which has much more theory-based learning.
You learn about handling, health and welfare and, as you progress through the levels, you'll begin to study more technical subjects such as anatomy, physiology, nutrition, first aid and applied behaviour.
We even have a level 6 programme in Zoo Studies based at our Kingsway Campus and at Camperdown Wildlife Centre giving you the opportunity to study in a real zoo and work alongside some of their keepers in a work experience unit.
Our Animal Care programmes have a flexible range of jumping on and jumping off points, once you reach your desired level. You can use these qualification to go out into employment or to access Higher Education through our articulation routes with, for example, Aberdeen University. Many learners go on to do further studies in the form of a Veterinary Nursing programme.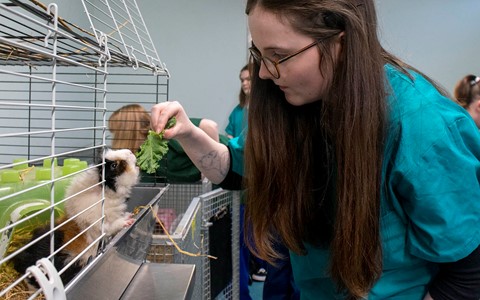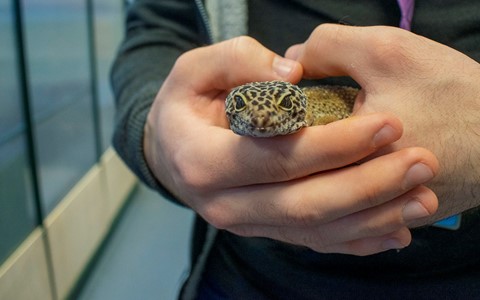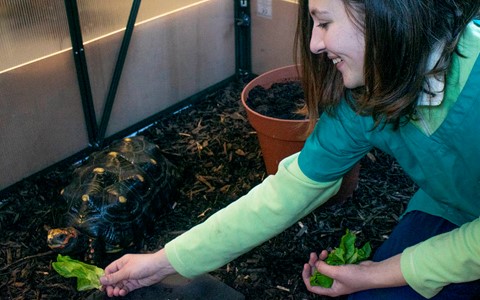 I have made some great friends during my time here and I think very highly of my lecturers who have made this journey unforgettable.

Chiara Panareo,

Animal Care
I was lucky to have the best of both worlds, from the encouragement of the college tutors and a Head Gardener who would advise on any aspects I was unsure of.

Charlotte Paterson,

Horticulture
The practical classes are great as you are able to handle and take care of all of the animals the college has including rabbits, guinea pigs, chickens and reptiles.

Laura Bain,

Animal Care
Chiara's Story
Chiara Panareo is originally from Italy and, after finishing her degree in foreign languages at the University of Bologna, she decided to move to Scotland.
"Taking some time to travel was the best thing I could have done as it brought me closer to what I really wanted to do – work with animals. I knew I had to get some qualifications and that's when I came across Dundee and Angus College."
Chiara applied for an Animal Care course at the Arbroath campus to give her a platform to build up a career in the animal world. 
"I learned how to care for a broad range of animals, studied their anatomy, how to administer drugs and how they work in the body, what kinds of diseases animals get, which can be transferred to humans and how to prevent that."
Chiara was surprised at how much she has enjoyed the more science-based subjects such as pharmacology and anatomy.
"My background was mainly literature but I have loved learning how mechanisms in the body work and how nature always finds a way to function."
Charlotte's Story
When Charlotte Paterson's children got older, she decided it was time to decide on her own career path.
"While visiting the Dundee Flower and Food Festival I was invited to join a class in the Horticulture Department at Dundee and Angus College. From my first day there, my mind was made up to become a gardener!"
Charlotte began with the Access to Horticulture course then progressed to SCQF Levels 4 and 5 before attending the University of the Highlands and Islands to study an HNC in Horticulture.
"During my time with D&A I started volunteering at Brechin Castle in the Walled Garden. I found the combination worked well with being able to practise the theory learned at college in a live situation at the gardens. I really enjoyed all aspects of the course work from plant anatomy, propagation, lawn care, plant nutrition, soils and growing media, to garden design, garden machinery, building drystone dykes, laying a variety of paving, building brick walls and much more."
Charlotte was then offered the position of seasonal gardener at Brechin.
"I was lucky to have the best of both worlds, from the encouragement of the college tutors and a Head Gardener who would advise on any aspects I was unsure of."
A few years on, Charlotte is now Head Gardener herself.
"It has been a very steep learning curve, but I can always fall back on the basics from my courses. I use the term 'Head Gardener' lightly as behind the scenes I have an army of advisors – my tutors from college and the last two very experienced Head Gardeners, all of whom I call on regularly!
"It is so rewarding when you see the plants you have cared for growing well but it can be equally frustrating when things go wrong. I know it is a trade in which I will never stop learning. I am always using the skills I learned at college when searching details about various plants. Other gardeners are always willing to pass on knowledge and skills, and now I'm finding I am doing the same thing myself."
Laura's Story
After studying Psychology & Sociology and Health & Social Care at Aberdeen, Laura Bain decided she wasn't on the right career path.

"I moved to Dundee hoping to find a career working with animals, so I applied for the NC Level of Animal Care at Dundee and Angus College's Arbroath campus. Unfortunately, I'd left the application quite late so there were no spaces available at that level. This led to me securing a place on the Introduction to Animal Care."

Laura's favourite subject was Anatomy & Physiology.

"It was so interesting learning about how the mammalian body works on a day-to-day basis. As I reached HNC Level, the work became tougher, but it was worth getting through it all as it was my favourite year where I learnt the most."

 

}