Hospitality & Professional Cookery
Are you looking for a career in a rapidly expanding sector? The hospitality and professional cookery industry is fun, dynamic and vibrant with excellent opportunities for career advancement.
The courses we offer are uniquely designed to provide learners with the skills and knowledge required to secure employment within the industry or progress to further and higher education. You will benefit from learning in a realistic working environment, gaining valuable hands-on experience and having access to industry-standard equipment and software programmes.
Our courses are engaging, current and relevant. They are delivered in our own kitchens, bakery, restaurants and café bars allowing you to put what you have learnt in theory into practice in a supportive, inclusive and nurturing environment.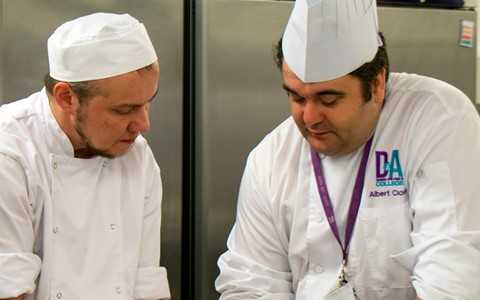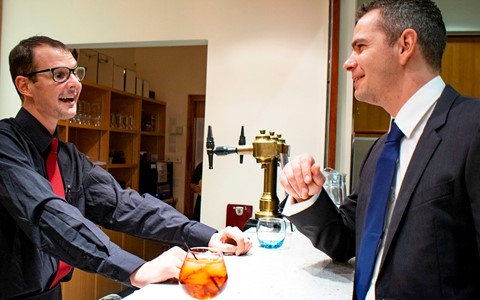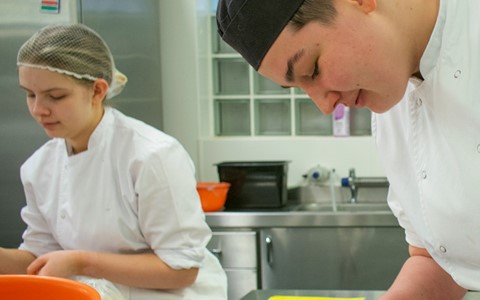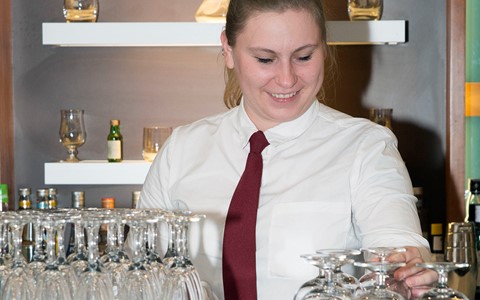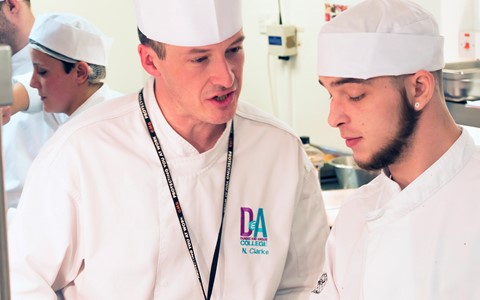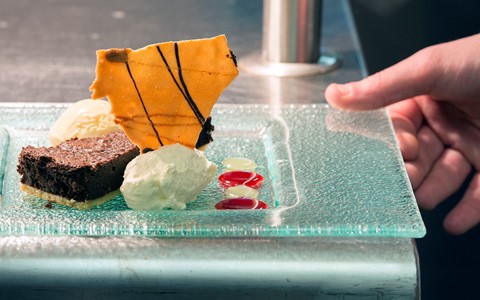 At first, I was anxious and nervous but looking back now it was one of the best choices I have ever made. Studying at college has given me lots more confidence in myself.

Ashleigh Paton,

Hospitality
Becoming a dad spurred me on somewhat! Given my years working in the industry I thought I knew it all but the course really ignited a passion for all things pastry - chocolate work in particular.

Craig McKenzie,

Professional Cookery
To any future students I would say, go after your dreams and don't be afraid to make mistakes.

Inga Griska,

ESOL and Hospitality
The diversity of the college is great. Its kitchens are the perfect environment to learn the basics and the higher level courses allow you to acquire advanced skills.

Szilard Szentesi,

Professional Cookery
I loved being given the opportunity to practice my new skills in the College Café Bar. It really gave me confidence knowing that they were prepared to give me this responsibility.

Arran Hill,

Hospitality
I want to keep learning, keep being inspired and grab opportunities that come my way and I'd say to anyone looking to shape their future, apply now!

Sophy Mitchell,

Hospitality
Arran's Story
Arran Hill had always wanted to work in hospitality, but every time he tried for a job as a chef or a waiter, he got the same answer 'you need more training'.
'Hearing that just made me even more determined to succeed,' says 35 year old Arran from Dundee, and in 2017 he started at the College. Now three years later, Arran has competed a Certificate in Hospitality and Professional Cookery and an HNC and HND in Hospitality. This is no mean achievement as Arran completed his HND during the Lockdown in March/April.
"I couldn't have completed this course without the support of the College and my family and friends, but I am really proud of what I achieved. I learned lots of different aspects of the industry from event planning to preparing food in a restaurant style and how to serve customers in a restaurant setting."
Arran says some of his favourite parts of the course was working alongside professional chefs at the Food and Flower Festival as well as high pressure events at the Apex hotel in Dundee and the St Andrew's Golf Hotel.
"I also loved being given the opportunity to practice my new skills in the College Café Bar. It really gave me confidence knowing that they were prepared to give me this responsibility."
Obviously, in these Covid times a career in the hospitality industry is far from easy at the moment, but Arran has secured a job as a chef at a café in Dundee.
"I feel without the teaching care and attention to detail that all the lectures within the hospitality department gave me, I would not be where I am in my work place today. I also feel that my units from all my courses have helped me. During Covid I feel that without the College's continued support and passion I would not have been able to learn the new skills I have currently learnt in my work place"
Sophy's Story
What's Sophy Mitchell's proudest moment? The cheers and the clapping as she graduated at Dundee's Caird Hall in front of her parents and her husband. That was 7 years ago and now 29 year old Sophy has been promoted to being a Stores Supervisor at the College's Kingsway Campus.
"I have always loved cooking and socialising from a young age, but by the time I had reached 19 years old I was feeling a bit lost."
Sophy's life changed for the better, however, after she was accepted to do an HNC in Hospitality Management at the College.
"I learnt to never give up!!! I really struggled with financial control but with the support from the fabulous lecturers I plodded along! I was surprised at how difficult the course was as a lot of people, I feel, underestimate college!!My favourite aspects were definitely the practical! From front of house in the training restaurant to cooking main courses in the kitchen – LOVE practical and definitely my stronger point."
And Sophy has plenty of ambition left.
"I want to keep learning, keep being inspired and grab opportunities that come my way and I'd say to anyone looking to shape their future, apply now!"