Events & Tourism
Are you a people person and looking for excitement and adventure? A career in Events or Tourism could be the ideal choice.
We offer courses which will help prepare you for a career in these vibrant and fast-paced industries.
You will be introduced to the main roles and key areas in the sector whilst gaining valuable knowledge and industry experience.
Events
We work with a great range of employers to provide valuable, exciting work placement opportunities for our events students. Recently our students have worked with:
Radio 1's Big Weekend
SRD Fashion Festival at the V&A
The Big Big Wedding Fair & Fashion Show at the O2 Academy Edinburgh
The Culture Crawl & Firewalk for Maggie's Dundee
Scottish Disability Sport
The Dundee Hoolie with Dundee City Council
Forbes of Kingennie Country Resort
Our students also get to plan, organise, implement and evaluate their own events, working in small groups. Students have organised a fantastic range of different types of events in the past, including family fun days, wedding fairs, band nights, charity coffee mornings, sports events, bingo and quiz nights and even an evening of mediumship!
Events Management is a vibrant and booming sector locally and nationally, is worth an annual £42.3 billion to the UK economy and provides opportunities to work across a diverse range of events including music festivals, conferences, cultural events, sporting occasions and exhibitions.
Tourism
We deliver a broad Tourism programme that introduces you to the main roles in this sector such as Travel Agents, Cabin Crew, Tour Guides and Airport Check-in Staff. You'll gain skills and knowledge in Customer Service, World Attractions, Holiday Types and much more.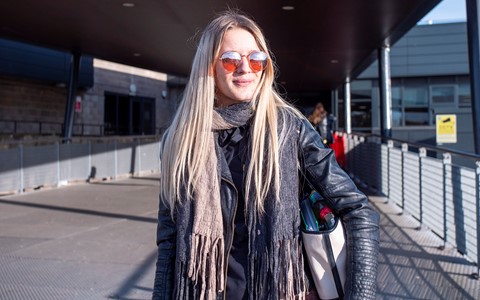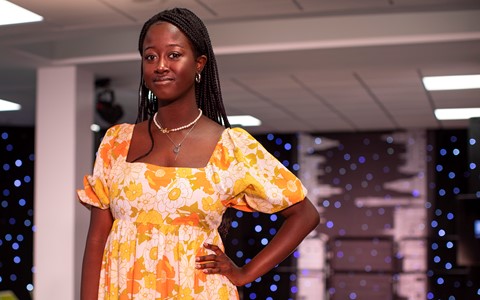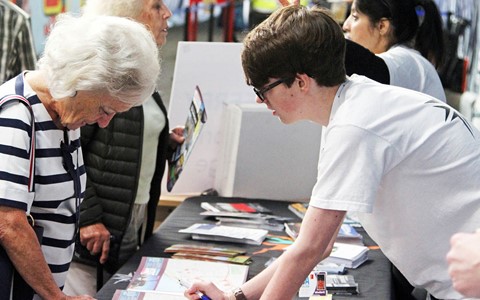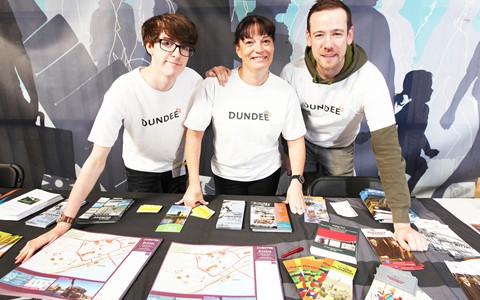 I decided to apply to D&A College so I could stay at home while studying and keep the part-time job I had at the time.

Kerry Gillespie,

Events Management
Never be afraid to take the opportunity to change your life. I did it at the age of 51 and it was the best move I could have made.

Heidie Hird,

Travel & Tourism
I gained work experience from the Events Executive Team at the Apex Hotel. I also had the chance to organise a Red Nose Day event within the Wellgate Shopping Centre.

Madalina Ormenisan,

Events
Although I had no work experience, I did have life experience which should not be under-estimated.

Eleanor Mitchell,

Travel and Tourism
Kerry's Story – From Dundee to New York!   
Kerry Gillespie first became interested in Event Management while still at high school.   
"I decided to apply to D&A College so I could stay at home while studying and keep the part-time job I had at the time. We learned all sorts of different topics throughout the two-year course including event logistics, event planning, business management, budgeting and finance, admin skills, legal and much more! My favourite part was working on putting on our own events which we did once a year. I was proud of the two charity events we organised in aid of Maggie's Centre."   
Kerry admits budgeting and finance was her least favourite module, but it has come in helpful in work.   
"After leaving college I went to work at the University of St Andrews as an Events Assistant within the commercial arm of the Uni. I was then promoted to an Events Manager where I managed all sorts of events including conferences, summer schools, award ceremonies, sporting events, gala dinners/balls and even weddings."   
While working at the University, Kerry decided to study for a distance learning degree through RGU University in Business Management.    
"I did this in my free time, outside of work, and within a year I graduated with a BA degree. I am now an Events Manager for Insights – a learning and development company founded in Dundee but now operating globally. I am extremely lucky to be able to travel the world with this job and within a year I have visited five different countries, including managing the company's largest event to date in New York City. COVID-19 has unfortunately put a hold to all the travelling, but I am learning lots of new skills every day in managing different virtual/online events."  
Heidie's Story
When Heidie Hird reached her fifties she decided it was time to for a change.
"I opted to study Travel and Tourism at Dundee and Angus College. The staff were friendly and helpful when I attended my interview and explained everything which, as a mature student, was important to me. Once I started going to lectures I was fascinated by the subject topics and choices."
Heidie progressed from NC to HNC then HND.
"I was encouraged throughout by my lecturers who believed in me and the door was always open if I needed help. I loved the fact that I still have many of my classmates as friends and we keep in contact and encourage each other with everything. I am really proud that due to my work experience over the years I was able to help a lot of my classmates with some of the role play assessments. The younger students were really nervous about their abilities. I was able to sit with them and encourage them by working on their strengths and weaknesses."
When Heidie first started studying Travel and Tourism she was unsure which path she wanted to follow.
"The subject choices gave me a wider range of knowledge so I could make more certain choices. I was aiming to be a Tour Guide or a Tourist Information Officer but Covid 19 changed all that. This inspired me to attend university as I had the knowledge and confidence gained through my three years at college. As I had passed my HND I was able to go straight into 3rd year of my course at Stirling University."
Eventually Heidie would like to start a tourist information business, specialising in disabled tourism. She would also love to be a Tour Guide. Here. She sums up her experience: "Never be afraid to take the opportunity to change your life. I did it at the age of 51 and it was the best move I could have made."
Eleanor's Story
Eleanor Mitchell had never worked during her 17-year marriage so she decided she needed to get some qualifications to give her a better chance of employment.

"At the time I was interested in working for an airport so I opted for Dundee and Angus College's Travel and Tourism course. As I was the only mature student in the class, I enjoyed the friendships I had with the younger students. Mixing with them helped me understand everyone had different needs and insecurities. We all helped each other in different ways and have become good life-long friends. I am immensely proud of where some of them are now.

"Over the range of NC to HNC I became more aware of the Scottish Tourism Industry which interested me more than I thought it would."

Eleanor then secured a role at Visit Scotland Tourist Information in Dundee and completed a BA Hons International Tourism Management Degree at Robert Gordon University in Aberdeen.

"This was all possible because of the encouragement and belief that the lecturers at the college had in me, as university was not something I would have considered before. I am proof that these courses work no matter what your age is."

}