Health & Social Care
The department of Health and Social Care works closely with partners in the NHS, local authorities and the independent sector. We aim to support students into further and higher education or employment.
Our staff comprises registered practitioners in the fields of nursing, social work and allied health professionals. There is also expertise in the fields of psychology, sociology, learning disability, reenablement, youth work and community nursing.
Learners can expect an experience that ensures they are supported to develop the professional standards required for this career path. A practice element in many of the courses enables students to maintain that professionalism in the workplace and beyond into a diverse selection of careers in the field of Health and Social Care.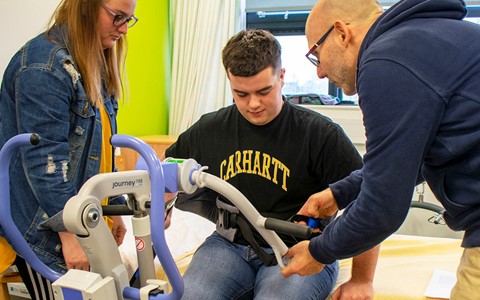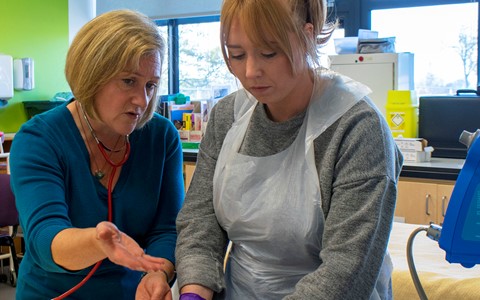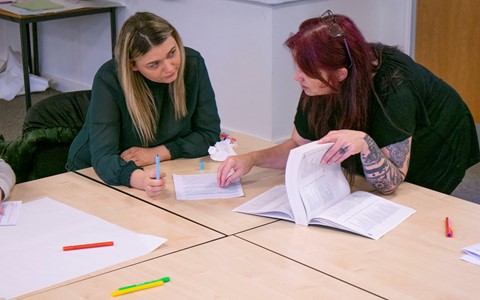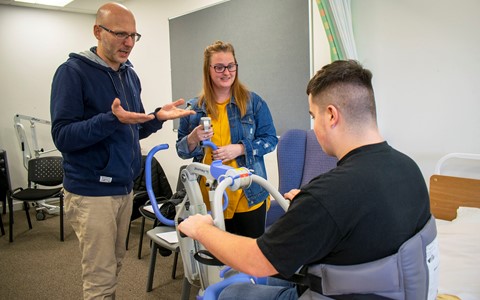 I found all the subjects we covered in college gave me the perfect grounding. I would definitely recommend it for anyone who is hoping to go to university and hasn't been in education for a long period of time.

Tracey MacKay,

Access to Nursing and Social Services
Changing how I viewed my education was definitely one of my favourite aspects, considering it went from something I avoided, to something I absolutely love, is pretty awesome!

Chelsea McWhinnie,

Health & Social Care
Tracey's Story
Tracey MacKay wanted to pursue a career in nursing but had delayed it for several years while she cared for her family.
"I decided to apply to Dundee and Angus College as a mature student to study Access to Nursing and Social Services. We covered a range of subjects in relation to sociological, psychological and physiological theory. It had been quite a few years since I had been in a classroom so the thing that surprised me most was the fact that I could do the work and was not as incapable as I initially thought. Teamwork was fostered and everyone was encouraged to reach their full potential."
Tracey enjoyed learning new subjects and meeting like-minded people.
"I was the class rep and also a member of the sexual health team. This provided the opportunity to attend further courses that were held by the college and taken by external lecturers."
Tracey then went on to study Mental Health Nursing at the University of Dundee.
"The support you receive at college is worth its weight in gold."
Sue's Story
Sue Ross wanted to study nursing but knew she would need more qualifications to go to university so she signed up at college for an NC in Health and Social care followed by an HNC in Care and Administration.
"We learned about nursing care and first aid, health and safety, how to work professionally and within codes of conduct, how social and psychological events affect our health and status in life, and how to work together in different groups for our future practice in multi-disciplinary teams. My favourite and difficult aspect at the same time was physiology for care professionals – there was a lot to learn, but at the same time so fascinating to see how the human body works."
Sue had been out of education for several years so she was initially apprehensive about what she could achieve.
"My tutors gave me the confidence to forge ahead, and I am so proud that I did, as I achieved an A in my graded unit and my assessment for anatomy for care professionals is now being used as an example for future students."
Sue is now studying Adult Nursing at the University of Dundee and hopes to eventually become a Parkinson's nurse.
Chelsea's Story
Chelsea McWhinnie admits she barely attended high school and when she did, she didn't do the work.
"My behaviour was pretty bad, and I definitely had an attitude problem. There was a reason for it all, but nobody really bothered to find out why, and I was just classed as trouble. I was confused and lost in most classes, which is why the pattern of skipping class began. I was embarrassed about not understanding the maths problems, along with the fact I struggled to read a lot of the words and my spelling was terrible. I would get extremely anxious when a teacher asked me a question, or asked to check my work, because most of the time they would make a comment on my messy writing, spelling or my grammar.
"The worst part for me, a girl who couldn't read well, was being made to read in front of a class who would I knew would definitely laugh!"
Eventually Chelsea gave up trying and was told she couldn't stay on at school.
"I then decided to do Introduction to Care at college. I didn't have any plans to make an effort, or stick in, it was just something to do while my friends were at school. But that's how my college journey started!"
Chelsea discovered she had dyslexia and dysgraphia.
"The person I worked with in Student Services was amazing and supported me tremendously both years of my SVQ2 and my HNC in Health and Social Care. Plus, I had really great lecturers too who believed in me fully.
"I found the courses very challenging to start with, but I learned a lot about Health and Social care, and a lot about myself. Changing how I viewed my education was definitely one of my favourite aspects, considering it went from something I avoided, to something I absolutely love, is pretty awesome!"
Chelsea is now studying Counselling and Psychology at Abertay University.
"I always wanted to be a child psychologist but after my amazing experience at college I think my ambition is to get my degree and possibly become a lecturer. I would like to show other students who need someone to believe in them that there is always someone out there. I am living proof that if you have the right support and you put the work in, you can achieve anything!"