Software & Applications Development
In Scotland, over 90,000 people work in digital technology roles, and salaries are growing almost twice as fast as the average.
With this Foundation Apprenticeship, you'll be setting yourself up for roles that are in demand not only just now, but in the future too. As a software or web developer, you can use your skills to create programs, robotic systems, apps and websites. As a database administrator or network manager you'd design and build computer systems to store and manipulate vital information.
What will I learn?
For your National Progression Award, your topics will be:
Computing Applications: Development
Computing: Authoring a Website
Software Design and Development
In S6, you'll work in a hands-on, practical way as part of your work placement, towards achieving the five units of your Diploma:
Data Modelling
Investigating and Defining Customer Requirements for IT and Telecoms Systems
Health and Safety in IT and Telecom
Personal Effectiveness
And one of the following: Event Driven Computer Programming, Procedural Programming or Object Oriented Computer Programming
Entry requirements:
A good level of English and Mathematics (National 5) or completion of Web/Graphic Design and Development Skills for Work class. Other relevant knowledge and experience will be considered and will be discussed with course leader.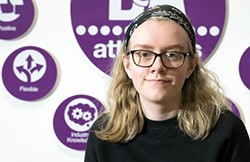 Read about Arbroath High pupil Eilidh's experience of doing a Foundation Apprenticeship in Software Development.

Key info
Over 2 years (5th & 6th year)
Starts: May 2021
Ends: May 2023 
Gardyne Campus: Year 1 & 2: Mon & Wed 2-5pm
Arbroath Campus: Year 1 & 2: Tues 9am-4pm

1 year option (in 6th year)
Gardyne Campus: Mon, Tues, Wed 2-5pm and Thurs 1-4pm
Arbroath Campus: Tue & Fri 9am-4pm
Please note: delivery of learning and work placements may be affected by COVID-19 restrictions, where remote and blended learning may be undertaken alongside or in place of classroom and workplace learning. 
Find out more about what the college is offering by contacting our Academic Partnerships Team at APT@dundeeandangus.ac.uk or 01382 834847

You can also speak to your school Guidance Teacher (Dundee schools) or Pupil Care and Support Teacher (Angus schools).