Animal Care
We offer a unique range of Animal Care qualifications ranging from practical skills for learners without any prior formal qualifications to a mixture of core practical and theory skills needed for a career working with animals. Our higher-level courses include the opportunity to study areas such as Animal Welfare, Nutrition, Health and Disease and Wildlife and our Zoo Animal Behaviour and Welfare qualification has allowed learners to study behaviour and welfare in zoos and has successfully opened doors to careers in Zoos and Animal Parks.
Our Animal Care graduates have gone on to a wide range of animal-related careers including dog walkers, zoo keepers, business owners, SSPCA rescue officers and dog wardens as well as accessing qualifications in Vet Nursing and university degrees.
The Animal Care courses are delivered by an experienced and qualified team including a veterinary surgeon, vet nurses, and degree holders in animal care and zoology.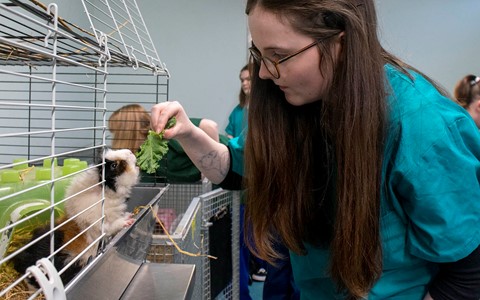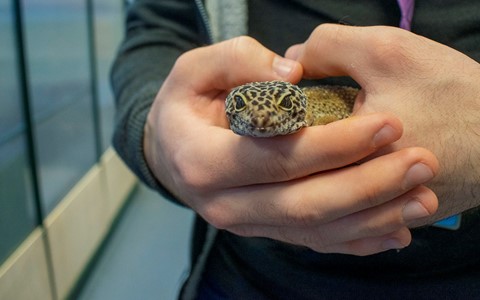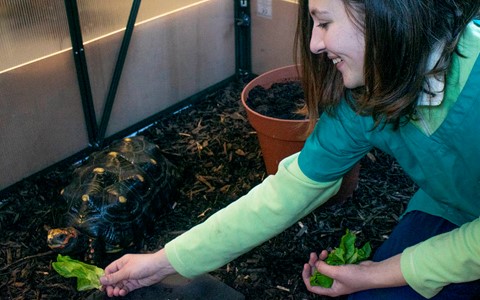 I have made some great friends during my time here and I think very highly of my lecturers who have made this journey unforgettable.

Chiara Panareo,

Animal Care
The practical classes are great as you are able to handle and take care of all of the animals the college has including rabbits, guinea pigs, chickens and reptiles.

Laura Bain,

Animal Care
Chiara's Story
Chiara Panareo is originally from Italy and, after finishing her degree in foreign languages at the University of Bologna, she decided to move to Scotland.
"Taking some time to travel was the best thing I could have done as it brought me closer to what I really wanted to do – work with animals. I knew I had to get some qualifications and that's when I came across Dundee and Angus College."
Chiara applied for an Animal Care course at the Arbroath campus to give her a platform to build up a career in the animal world. 
"I learned how to care for a broad range of animals, studied their anatomy, how to administer drugs and how they work in the body, what kinds of diseases animals get, which can be transferred to humans and how to prevent that."
Chiara was surprised at how much she has enjoyed the more science-based subjects such as pharmacology and anatomy.
"My background was mainly literature but I have loved learning how mechanisms in the body work and how nature always finds a way to function."
Laura's Story
After studying Psychology & Sociology and Health & Social Care at Aberdeen, Laura Bain decided she wasn't on the right career path.
"I moved to Dundee hoping to find a career working with animals, so I applied for the NC Level of Animal Care at Dundee and Angus College's Arbroath campus. Unfortunately, I'd left the application quite late so there were no spaces available at that level. This led to me securing a place on the Introduction to Animal Care."
Laura's favourite subject was Anatomy & Physiology.
"It was so interesting learning about how the mammalian body works on a day-to-day basis. As I reached HNC Level, the work became tougher, but it was worth getting through it all as it was my favourite year where I learnt the most."