Taste of success for D&A College student Harvey
Dundee and Angus College Senior Phase student, Harvey Steed, had a taste of success last week when he won the local final of the SB Future Chef competition in Arbroath.
Aimed at supporting young people to build industry-standard culinary skills and knowledge, as well as connecting them with industry professionals, SB Future Chef is a UK-wide free initiative for 11-16 year olds who are studying hospitality within a school setting or senior phase programme at college.
15 year old Harvey, from Monifieth, impressed the judges with his winning dish of salmon fillet with harissa spiced couscous, pineapple and red pepper chutney. He was also commended for arriving well-prepared with pristine PPE and remaining focused throughout the 60 minutes of judges' questioning.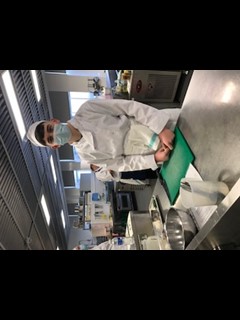 Harvey will now move on to the next stage of the competition – the regional finals in Elgin on 7 February where he will compete against other budding chefs from Moray, Aberdeen, Inverness and the surrounding areas for a place in the national final.

Harvey is being mentored for the duration of the competition by Dundee and Angus College Hospitality and Professional Cookery Lecturer, Debbie Robson, who is delighted to see Harvey's talent being recognised: "Harvey has shown great potential in the kitchen. His confidence in his own abilities has excelled throughout his preparations for Future Chef however, on the day, he still couldn't believe he had won! I have no doubt he will do well in the next stages of the competition and in his future career."

Harvey said, "I am grateful to have been given the opportunity to take part in this competition and meet people from the industry who have given me valuable feedback. I am looking forward to working with my lecturer throughout the next stages and I am going to continue practicing my dishes at home too."

}