Project SEARCH graduates celebrate success!
The first group of interns from Dundee and Angus College's DFN Project SEARCH programme proudly celebrated their achievements yesterday, alongside family and friends, at their graduation ceremony.
The event took place at the College's Gardyne Campus with certificates presented by Principal, Simon Hewitt. Representatives from the project's partner organisations: Dundee City Council, Dundee Health and Social Care Partnership and NHS Tayside were also in attendance.
DFN Project SEARCH is year-long transition to work programme that provides high-quality work-related learning and purposeful employment opportunities for young people with learning disabilities and autistic spectrum conditions. The uniquely designed partnership realigns occupational injustice by tackling the complex and widespread barriers that prevent these individuals from successfully gaining long-term and meaningful employment.
The College welcomed the first cohort of young people in August 2021. Throughout the duration of the programme they experienced a combination of classroom instruction, career exploration and hands-on training with continuous support from lecturers, job coaches and employers. Each intern had the opportunity to undertake valuable work placements in a variety of professional settings both within and the College and with various partner businesses.
Leanne MacDonald, Access and Supported Education Lecturer at Dundee and Angus College, said: "It has been a hugely fulfilling experience to empower a portion of the future workforce and equip them with the confidence, skills and knowledge required to navigate employment. The success of the programme is underpinned by collaboration, communication and connection and it has been a pleasure to work alongside our partner organisations, as well as with colleagues from across the College who stepped up to offer work placement opportunities for the interns. We have a wonderfully unique group of individuals graduating today and I am immensely proud of every one of them!"
Four of the seven graduates have successfully secured paid employment in the fields of their choice with one expected to find something suitable soon. The other two individuals have chosen to pursue volunteering opportunities.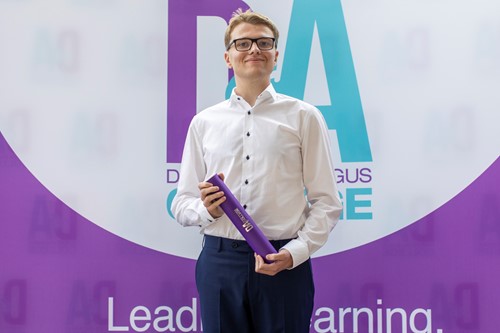 Ciaran McLaughlin, one of this year's successful interns, has gained paid employment with Clark's Bakery working as an assistant he said: "I think Project SEARCH has benefited me massively. Even though this isn't my end goal in life it's given me the kickstart that I needed to try new things and find employment."

}