Dundee and Angus College celebrates prize winning students
Dundee and Angus College held two prize giving ceremonies to celebrate the successes and achievements of their students in October 2023.
Dundee and Angus College celebrated the successes and achievements of their students at two prize-giving ceremonies held on Tuesday 3rd October 2023 at Webster Theatre, Arbroath and Tuesday 17th October 2023 at Gardyne Theatre, Dundee.
Over 320 guests attended the ceremonies to celebrate 92 prize-winning students for their incredible achievements.
Below are just some of the inspirational stories of these outstanding students. 
Meet some of the prize-winning students from our Arbroath Ceremony
Prize Winner Pauline defies all odds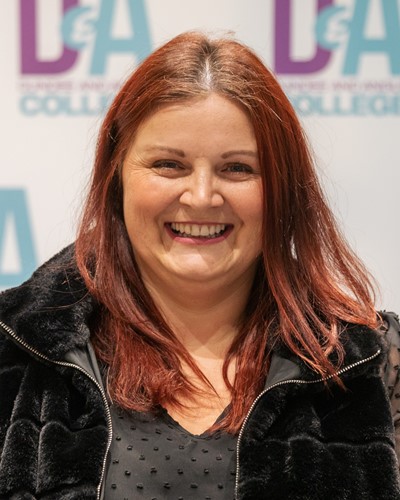 Pauline decided to end her 16-year career as a Dental Nurse, becoming an award-winning student who is on her way to a dream career working with children.
Pauline Duncan, a 36 year old student from Arbroath, proves that college is not just for school leavers as she picks up her Children & Young People prize at this year's Dundee and Angus College prizegiving Ceremony.
Due to the disruption of the pandemic, Pauline had time to consider her career options. After much deliberation she decided to give up her career after 16 years as a Dental Nurse and is now one step closer to her dream job working with children.
Starting college whilst expecting with her second child, Pauline decided to come back to her studies after welcoming her bundle of joy into the world and completed her second year in NC Early Education and Childcare.
Pauline comments "It was a very difficult year; my baby was born, and my partner didn't keep well but I got through it, and it was worth it."
Pauline has shown true determination and perseverance during her studies and is now working towards her HNC in Childhood Practice whilst taking on a role as a class representative, helping her classmates to achieve their goals.
From 12 hours shifts to top of the class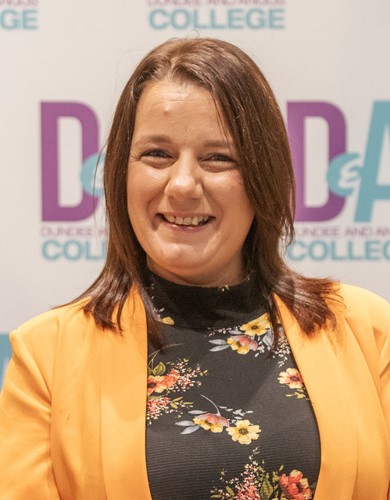 Award-winning student Debbie, despite a devastating loss, bags an A grade and is now on her way to achieving her goal of university.
Debbie Carnegie, 36-year-old from Forfar, had always dreamed of pursuing her college journey and 5 years earlier had enrolled, but due to personal circumstances was not able to complete the course. Last year, with a young family and a busy work life, Debbie decided now was the right time to start her journey and reapplied for Advanced Certificate in Social Sciences.  
"I was always very interested in Psychology and the way the mind works and it intrigued me." 
At the start of her education journey Debbie lost a close family member, but she was determined to succeed. She also moved house into the countryside and transferred campuses during her time at college. Despite all of this, Debbie passed her course with flying colours, achieving an A grade, and impressing her lecturers: "A dedicated and determined individual, Debbie has demonstrated the ability to persevere in her studies and has now successfully progressed to HNC with a glowing staff reference."
Debbie received the Social Sciences (FE) prize for her resilience and determination at this year's Dundee and Angus College prizegiving ceremony. She is now currently studying for her HNC in Social Sciences at Gardyne Campus and hopes to go onto university next year.  
Kamilla chooses college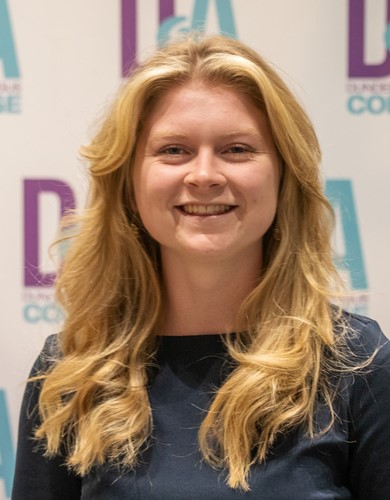 Having realised her university course was not what she thought, Kamilla decided to get hands on at college, in her dream job working with animals. Looking to gain experience in her field she volunteered 200+ hours with a local charity achieving the Principal's Choice Award at Dundee and Angus College prizegiving.
Kamila Butkiewicz from Arbroath left school at 18, having enjoyed biology and chemistry she went straight to university to study Biochemistry, however this wasn't the right choice for her. With her love for animals, she applied to Dundee and Angus College for the HNC Animal Care course at Arbroath Campus and quickly realised this was a better fit.
"I found college much more relaxed, and I couldn't have asked for a better class. I was glad I took the risk and went down a different path that I have really enjoyed."
During her time at college, Kamila volunteered over 200 hours with the PDSA charity shop in Arbroath. She wanted to gain experience, improve her customer service skills, and to give something back to the community.
Learner Engagement Manager, Katie Baxter says "When I spoke to the shop manager, she was so complementary of Kamila. She said Kamila is always friendly, works hard and tries her best at all times. Kamila was awarded her Gold D&A Attributes certificate this year, for her amazing volunteering efforts."
Kamila earned the Principal's Choice Award at Dundee and Angus College prizegiving ceremony this year for her tremendous efforts. She said she found volunteering satisfying and enjoyed spending time with like-minded people who had an interest in animals too. She found it humbling to listen to other people's stories and felt she was doing something worthwhile with her spare time.
Currently studying her HND in Animal Care, Kamila hopes to go back to university with an option to go into teaching in the future after such a great experience with her lecturers at Dundee and Angus College.
Chloe's confidence grows in care course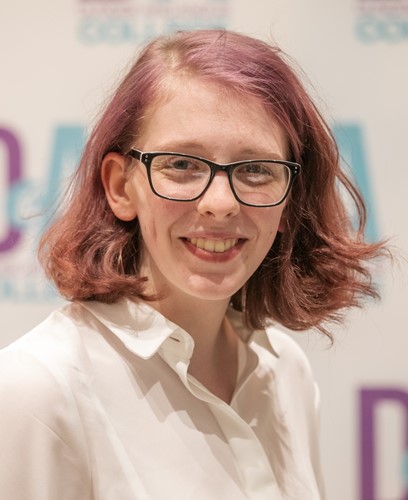 Having left school, student Chloe struggled with a lack of confidence, pushing herself outside her comfort zone she excelled in her course and is working towards a career in care.  
At 16, Chloe Lamond from Kirriemuir came to college straight from high school and initially found the transition difficult. Despite being the youngest in her class she has worked hard to build up her confidence bagging a prize at the annual Dundee and Angus College Prizegiving Ceremony for Personal Achievement. 
Chloe decided to pursue a career in care after her time caring for a family member, applying for the Level 5 Health and Social Care at Dundee and Angus College. With some of the course held online, Chloe didn't feel confident enough to turn her camera on or speak up in classes in the beginning. She confided in her lecturer and worked very hard on her confidence and putting her all into writing assignments and investigative work, impressing her lecturers: 
"As a student, her work was always of a high standard, and in on time, despite also having additional responsibilities at home helping to support a family member. Chloe has continued to succeed and push herself."   
Although shocked to have won the award, Chloe is delighted and extremely proud of herself and is happy to say she is now confident presenting and talking in front of her class. She is now working towards her goal of becoming a nurse, currently studying HNC Healthcare Practice course at Gardyne campus.
Meet some of the prize-winning students from our Dundee Ceremony
Home schooled Art student flourishes at D&A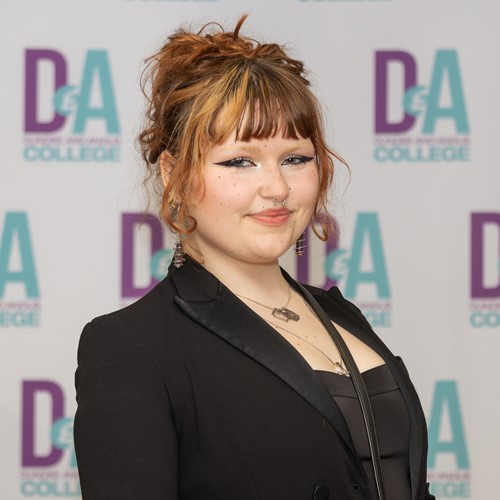 Picking up the Art and Design prize at this year's Dundee & Angus College prize giving
Tarah Buttner, 21 was initially home schooled. She attended D&A College, her first time in an educational institute, and thrived, becoming a shining example to others.
Originally from Ireland, Tarah moved to Australia with her family when she was 4, before coming back to the UK at 14 and settling in Scotland. From an early age her family made the decision to homeschool with a self-led, learn at your own pace approach, so moving in an education institute made her very anxious. Tarah was determined to succeed and having been recommended Dundee and Angus College by a friend and a love for art, she applied for the UAL in Art and Design at Gardyne Campus. With her willpower and enthusiasm, she really impressed her lecturers:
"Tarah came to us with no experience of formal learning, her positive attitude coupled with her desire to learn really marked her out, as a result her skills went from strength to strength."
She really pushed herself to be involved in clubs, making friends and fitting in with her peers. She excelled in her studies in the first year and with help from her lecturers moved onto the HND (1) in Contemporary Art. Tarah will be receiving the V&A Dundee Award at the D&A College prizing giving this year for her incredible efforts.  
She says: "The fact that I'm quite an introverted person, I was proud of myself for coming out of my shell and talking to so many people. I feel my two years at college has helped with my confidence and I wouldn't be at university if it wasn't for my time at college."
Now in her foundation year at DJCAD, who used her portfolio as an example of good practice, Tarah hopes to finish her degree in fine art.  
Leni follows in grandfather's footsteps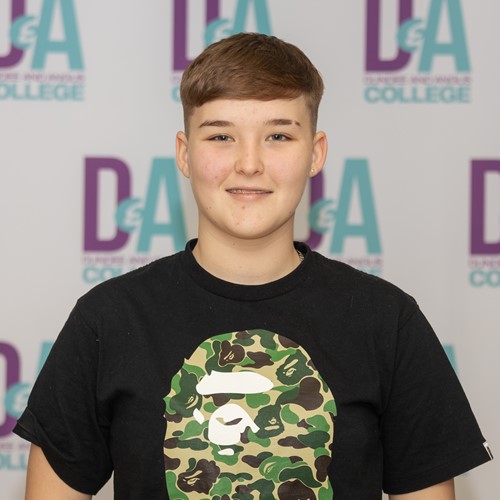 Dedicated student, Leni wanted to follow in her grandfather's footsteps and become a bricklayer. Her attention to detail, drive and determination has earned her the Foundation Apprenticeship Award at Dundee & Angus College prizegiving.  
From an early age, Leni Ross, 17, knew that she wanted to do something hands on in the future. When given her course choices in S4, she chose to do a Senior Phase Foundation Apprenticeship in Construction Skills at SCQF Level 5 at D&A College.
She thrived in the college learning environment and worked very hard in different aspects of construction such as joinery, painting and bricklaying. Leni had a keen interest specifically in bricklaying, having previously helping her grandfather with his bricklaying business, keeping the trade skills in the family.
Leni said that her determination came from knowing she would be making her grandad proud. This helped her to drive forward and pass with flying colours. She will be receiving the Foundation Apprenticeship Award for all her efforts at the D&A College prizegiving this year.
Her Lecturer said: "Leni produced a very high standard of work in her Senior Phase year, especially her attention to detail.  She is very polite, pleasant, always willing to ask questions and has a great work ethic."
Leni is now attending college full time at the Arbroath Campus, studying an Award in Construction: Bricklaying. She hopes to get an apprenticeship to become a bricklayer full time.
College gave Shona a purpose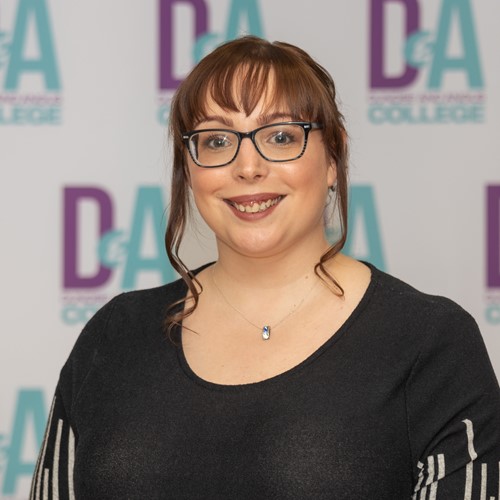 Prize-winning student, Shona finds her passion at college. Showing resilience during personal challenges she gains the prize for Personal Achievement as this years Dundee & Angus College prizegiving.
Shona Bowen, 37, from Arbroath decided to make a change in her life, with encouragement from family and friends, she decided to apply for Beauty Therapies at Dundee & Angus College.
Starting her Level 1 during the pandemic, she found the technology side of things very difficult. Having never used a laptop before, this was a huge obstacle, but she was determined to succeed. During her time at college a close family member was diagnosed with cancer. Instead of giving up, Shona threw herself into her studies and excelled.
Her Lecturer, Vicky Smith said: "Shona attended college every day with a smile regardless of what she was facing personally. Shona would always have a really refreshing positive approach which was unique, considering she was dealing with more than most out with college."
Shona stayed on to complete her Level 3 in Beauty Therapy where she really enjoyed the massage components. She decided to learn more about massage moving into Complementary Therapies and took up a job as a Spa Therapist.
Based on her personal experiences, Shona is working towards a career as an Oncology Therapist, working with cancer patients, providing a unique service to those who need it most.
Shona says: "Before starting college I never had a purpose, that fire in your belly you get when you are passionate about something. Now I have that, and I'm so grateful to the college for everything."
Shona was awarded student of the year in her Level 2 and will be picking up the prize for Personal Achievement at this year's D&A College prizegiving.
Animation student excels with college support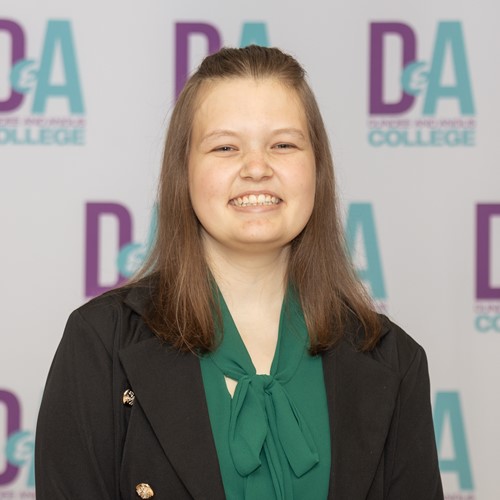 Prizewinning student Maya is now thriving at university due to her strength, hard work and the support she received from Dundee and Angus College.

Maya O'Connor, 21, started her journey at D&A College just before the pandemic, but into her second year struggled with online learning. She had always enjoyed animation from a young age and decided to apply for the HNC Computer Arts and Design (Animation) course at Gardyne campus.

During her first year, Maya struggled with her workload and didn't think she would be able to pass. Maya was diagnosed with ASD (Autism) and found socialising and time management a particular challenge. With the support and help of the college, Maya was given a student support plan to help her succeed in her studies.  

She found presentations exceptionally difficult and at first had to record her work. She worked hard to overcome this challenge and by the end of the second year confidently presented in front of her whole class. She passed her HND with flying colours and bagged a place at Abertay University, going into her third year.

Maya will be picking up the Computer Arts & Design prize for her outstanding achievements and says: "I am really proud of myself for being able to learn and understand. At the beginning I didn't think I would get through the course, but now I'm at university and I love it."

}