Igniting Imaginations: BAFTA Roadshow at Dundee & Angus College Sparks Creativity
Dundee & Angus College (D&A) played host to an extraordinary BAFTA Educational Roadshow at its Gardyne campus, igniting the imaginations of over 500 young students and a twilight session specially designed for D&A Esports and Animation students.
Throughout the event, distinguished speakers, and industry leaders, including representatives from BAFTA Scotland, Sarah Jane Crawford of DC Thomson's 110% Gaming, Biome Collective, Wild Child, and Fi Milligan-Rennie from Creative Scotland, shared their experiences and insights, enhanced by an interactive learning experience.
Jude MacLaverty, Director of BAFTA Scotland commented, "An integral part of BAFTA's charitable mission is to ignite and nurture the spark of young people's creativity. We were delighted to bring our events highlighting transferable skills and creative roles in film, games, and television to the young people of Dundee, especially on a campus that has invested in showcasing the possibilities of pursuing a career in the creative industries. We hope that all the students who attended, nearly 500 young people from P7 to college age, can feel excited and confident about continuing to work on the creative skills they demonstrated at this special event."
The day unfolded with engaging transferrable skills sessions, igniting creativity, and encouraging teamwork. Students eagerly generated innovative gaming ideas, honed presentation skills, and delved into character design for animation, all under the guidance of experts.
"Today we have been at D&A College learning about filmmaking, TV and game design.  We got to create ideas of our own and my favourite part was the game design.  We designed a game called 'Reptilia', where reptiles go to war with some birds and we have been designing it since primary four, we have about 12 hours of game play already!" said Ruben, a school pupil from Rosebank Primary School.
Steph Toms, Director of Curriculum and Partnerships at D&A, emphasised the significance of events like these, stating, "The BAFTA Educational Roadshow exemplifies our commitment to providing students with opportunities that go beyond the classroom. By showcasing the immense value of creative and transferable skills, it's about nurturing talent and guiding students towards fulfilling and dynamic careers."
The Gardyne Theatre buzzed with excitement during a twilight session dedicated to D&A ESports and Animation students. Attendees were treated to a captivating BAFTA showreel throughout the day offering a captivating glimpse into the world of television, animation, and games. Additionally, students seized the chance to have their photo taken with a genuine BAFTA award, creating cherished memories of the day.
A special thank you to DYW (Developing the Young Workforce) for their generous support in providing transport for the school children to the event.
As the day drew to a close, an enriching Q&A session provided students with the invaluable opportunity to engage directly with industry professionals, gaining insightful advice for their future endeavours.
For more information about the BAFTA Educational Roadshow at Dundee & Angus College, please contact:
marketing@dundeeandangus.ac.uk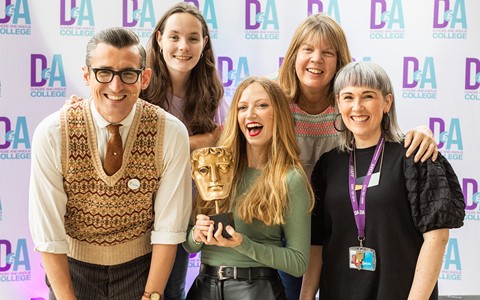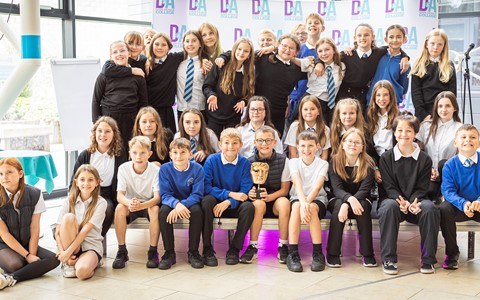 }