Graduation 2023
Almost 2000 people congregated in the Caird Hall on Friday 27th October to celebrate Dundee and Angus College's annual Graduation Ceremony.
Over 400 students who have successfully completed Higher National programmes such as HNC or HND, BA degree, SVQ and PDA awards crossed the stage, cheered on by around 1,500 family members and friends.
One special guest in the platform party was Jamie McBrearty, mindset coach and former Dundee College student, who gave an inspirational address.
Meet some of our graduating students
From classroom to centre stage for Amelia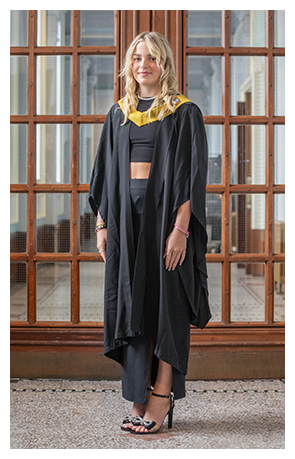 Pursuing her dream of becoming a dancer, Amelia graduates with an HNC in Dance at just 15 years old.
Amelia had always struggled in school; at parent's evenings, she was told she needed to focus more, but all she dreamed about was becoming a dancer. Having missed lots of school due to Covid, her mother, Sarah, wanted to do what she could to help Amelia achieve her ambitions. With the help of her school and the support of Dundee and Angus College, Sarah enrolled Amelia into an HNC in Dance at 14.
Sarah said: "Amelia thrived at The Space, which helped her grow. She had excellent feedback from her lecturers, and the support she received was amazing, especially from Student Services."
Whilst doing her HNC, Amelia also studied for her NAT 5 in English and was given an action plan, which she worked hard to achieve, achieving a fantastic grade B.
Amelia said: "It was hard at first, but I kept pushing for what I wanted. I had the choice whether I was going to succeed or not, and I did."
15-year-old Amelia will graduate with an HNC in Dance Artists and hopes to get a scholarship to one of England's most prestigious dance schools.
We are family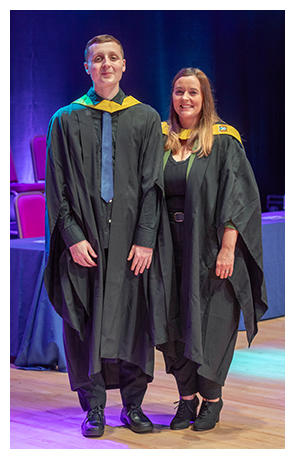 Mother and son, Joanne and Dylan will be graduating together.
Joanne had always wanted to change her career, but having seen jobs she wanted, the requirements to apply always had qualifications she didn't have. She decided to push forward with her plans and applied for an HNC at Dundee and Angus College. While still working a full-time job, Joanne found it difficult to juggle, but she persevered with determination and the will to succeed.
She said about the course: "A week before my final assignment, I had a family bereavement and I didn't think I could complete the course, but my lecturer was so understanding and helped me push through so I could pass."
Following in the footsteps as his mum, Dylan applied to Dundee and Angus College in Sports and Fitness after finishing school. He described the college: "I found college to be a positive environment; the lecturers genuinely care, and it has taught me to be more independent."
Graduating with an HNC in Sports Coaching and Development, Dylan has continued his studies at HND level and hopes to go into coaching potentially abroad.
Joanne, graduating with an HNC in Administration and Information Technology, says: "It's a real achievement to be graduating and I'm proud that I was able to learn again. It makes it even more special being able to share this day with my son, Dylan."
Mum knows best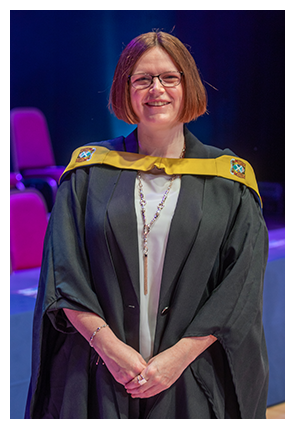 Laura wanted to prove to her son, Stephen who was anxious about going to college, that if she could do it, then so could he.
Laura left school with no qualifications and had always planned one day to return to education, to pursue her dream of becoming a nurse. Having promised her dad years earlier, and to prove to son Stephen that education was the answer, she took the plunge, and applied for the SVQ Level 3 Social Services and Healthcare course at Dundee and Angus College.
She said: "I wanted to show my son that it doesn't matter how long it takes, you can return to education at any age, and I have shown that."
She was initially worried about the essay writing but found it less challenging than she first anticipated.
Graduating today, Laura is now the first in her ward at Ninewells as a Band 4 and administers dialysis and oversees patients. She said: "I am so grateful to be able to graduate, especially as a mature student. Being able to complete this course has given me the confidence to go after my dream and become a registered nurse."
Having seen his mum succeed, son Stephen applied for a place at Dundee and Angus College in Professional Cookery and is thriving, hoping to become a chef one day.
It's a twin thing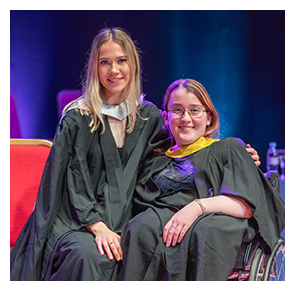 It's double celebrations for twin sisters, Murran & Cheyanne, who are both graduating from Dundee and Angus College.
From an early age, Murran had always had a passion for working with children. Having been a wheelchair user for most of her life, she wanted to prove to herself and others that she was capable of whatever she put her mind to.
She applied for a Modern Apprenticeship, studying at Dundee and Angus College whilst working as an Early Years Practitioner. She said: "I found some aspects of the job a challenge to begin with but was able to overcome and adapt."
Cheyanne always enjoyed sport and having worked with local sports teams and conducting children's swimming lessons she decided to go down the sport and fitness route graduating with an HND in Physical Activity and Health. She struggled academically at first, but with the support of her twin sister, her family, and her lecturers she managed to overcome these challenges.
The sisters will be graduating with their family around them and are both so proud of themselves and each other. Cheyanne said: "There are so many opportunities at college and I'm so glad I've done the course. I'm proud of what I have achieved and it's even more special to be graduating with my twin sister."
Cheyanne hopes to one day become a paramedic whilst Murran is excited to progress in her early education career.
Following in his father's footsteps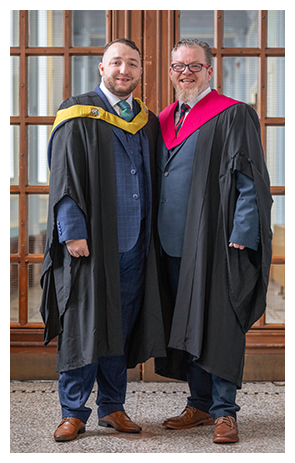 After leaving school with no qualifications, Kerr decided to follow in his father's footsteps and become a chef.
Growing up, he always had a passion for food, watching his father prepare dishes. The competitive side of Kerr always thought about how he would prepare it differently. After leaving the army, he decided to apply to Dundee and Angus College for SVQ3 in Professional Cookery.
Father, Ewan, had joined the college back in 2008 and became the head chef at Ninewells Hospital in 2018. Ewan will also be graduating today with a CMI Level 5 Award in Management and Leadership, which he says without the input of his lecturers when he first attended college, wouldn't be in a management position today.
When discussed graduating, Kerr said: "To leave school with no qualifications and now graduating, is outstanding. It will be such a proud moment to be with doing this with my father by my side too."
Diagnoses to Degree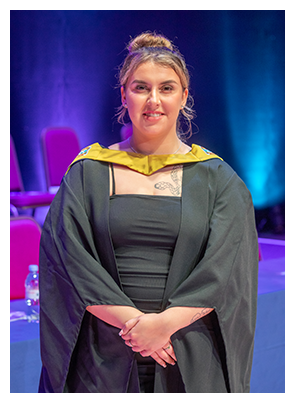 Elizabeth used her social sciences education to understand her own behaviours. Graduating with an HNC, she hopes to help other children get educational support at school.
Having struggled throughout her education journey, Elizabeth was diagnosed with ADHD in 2019. Following this, she developed an interest in human behaviours, including psychology, helping her better understand herself and others. She decided to apply for an Introduction to Social Sciences Level 4 course at Dundee and Angus College and worked her way through all the levels.
Whilst at college, Elizabeth was also diagnosed with Dyspraxia, which makes planning and motor tasks particularly difficult, but with the support of the teams at the college and her determination, Elizabeth succeeded in her courses and is graduating with an HNC in Social Sciences. She said: "The support I received after my diagnosis to help me get through my coursework was amazing, and everyone was very approachable."
Elizabeth has moved straight into her second year at Abertay University, studying Psychology with development and education. She hopes to become an Education Psychologist for children in schools, using her own experiences to help give them any educational support they might need.
Ceremony livestream
Snapshots of the day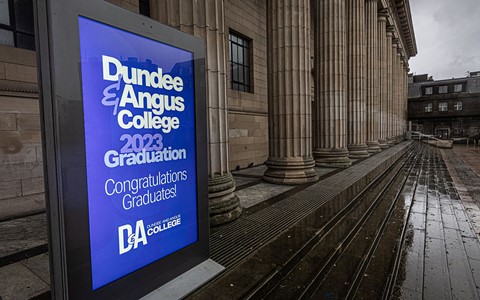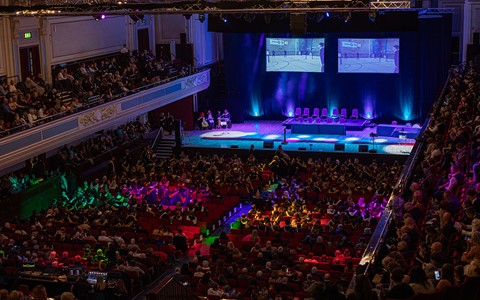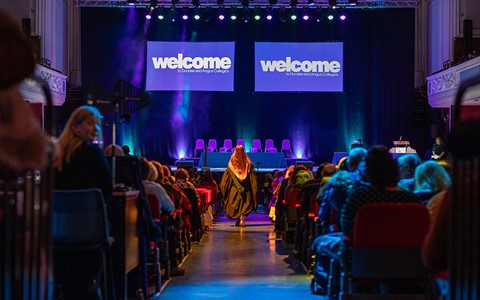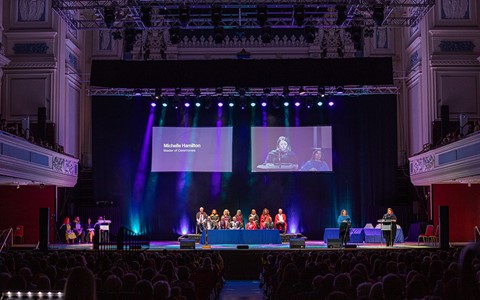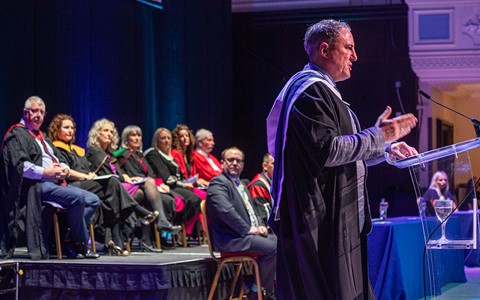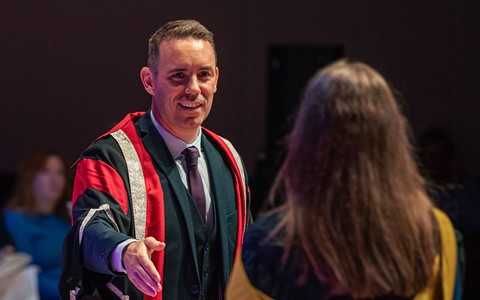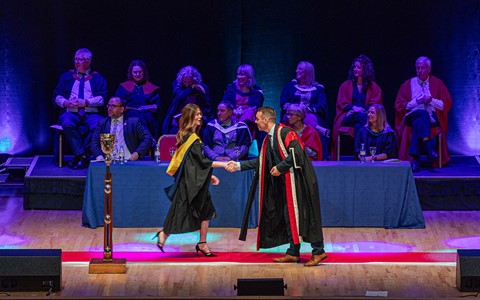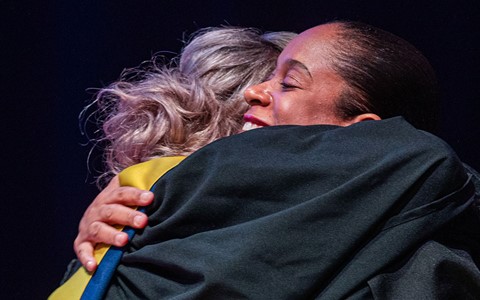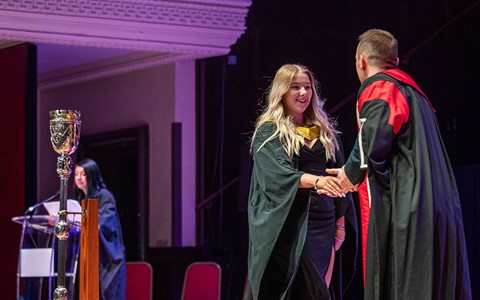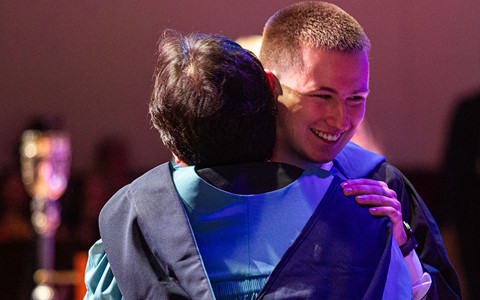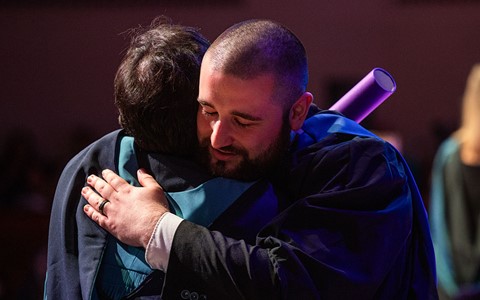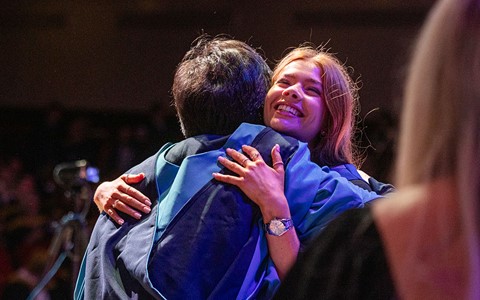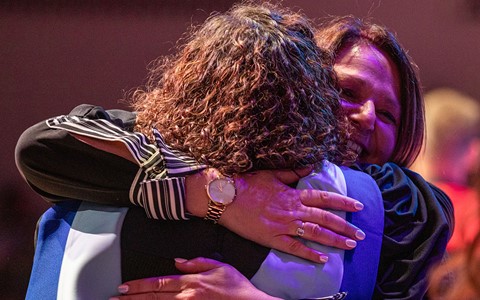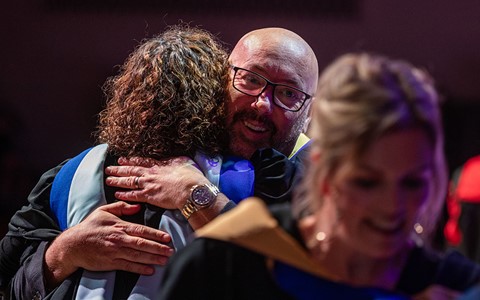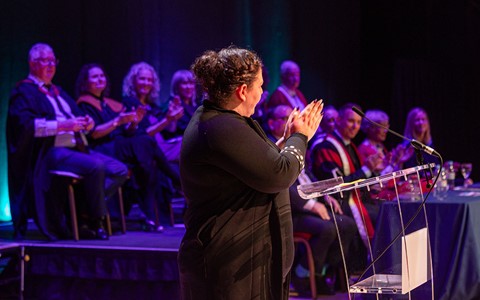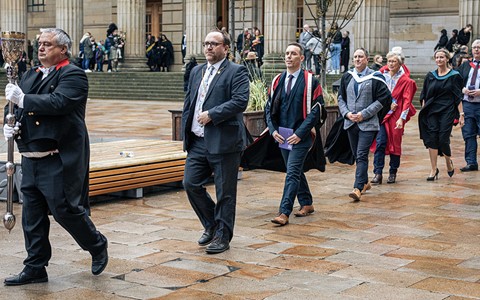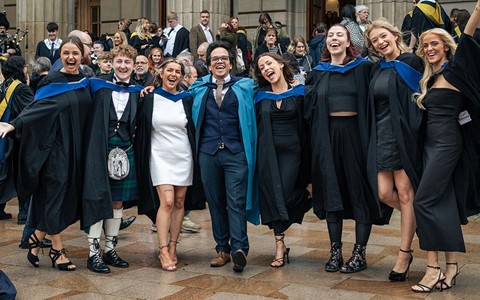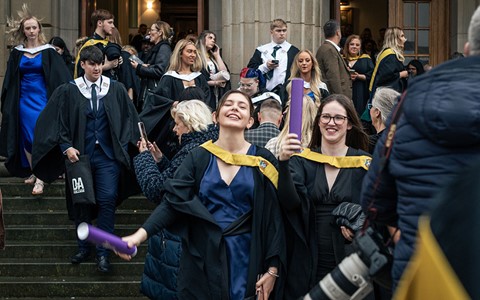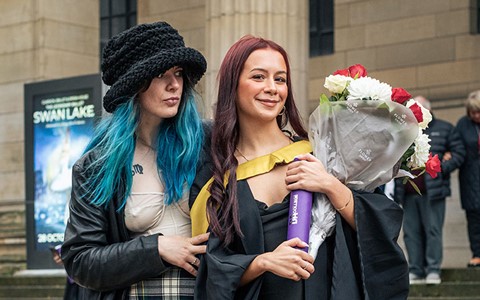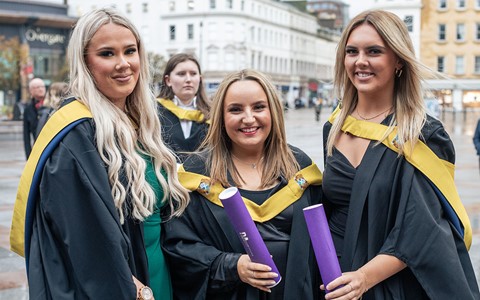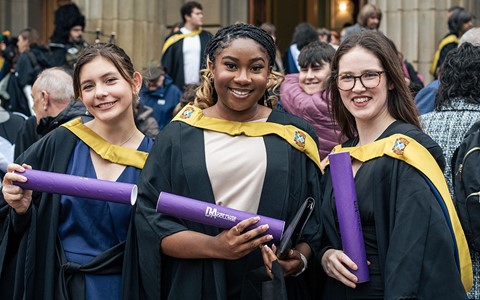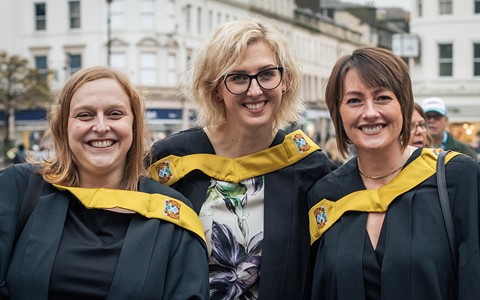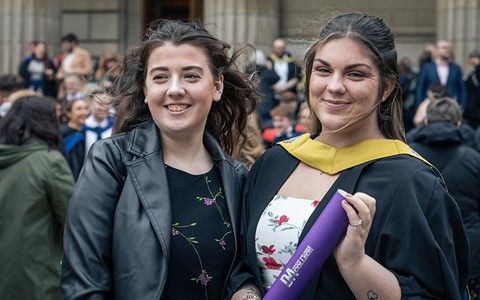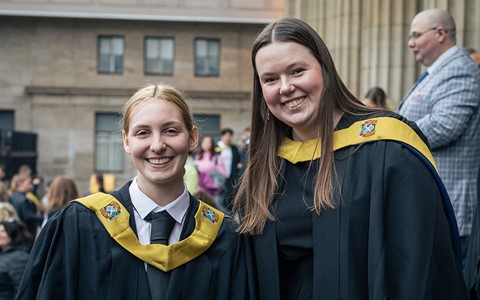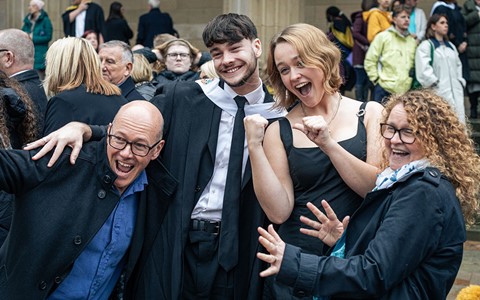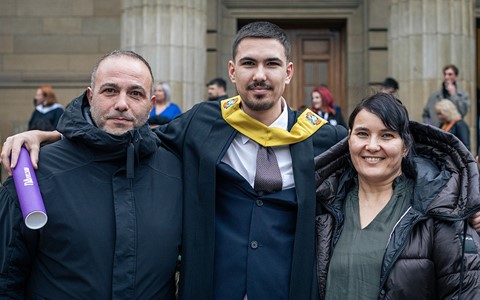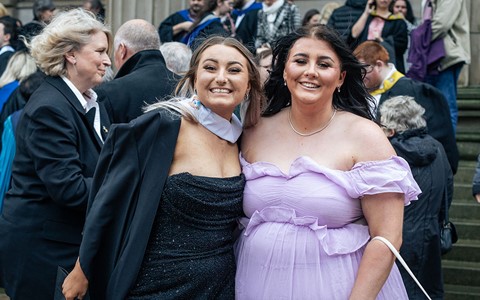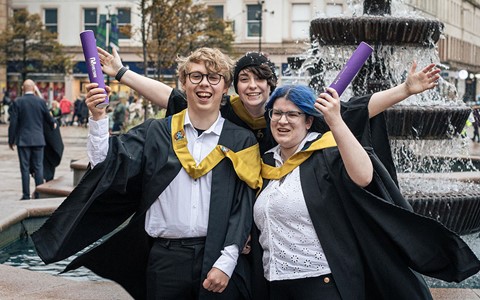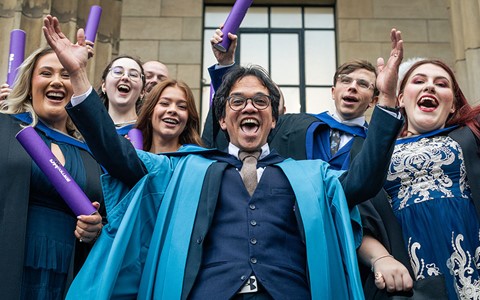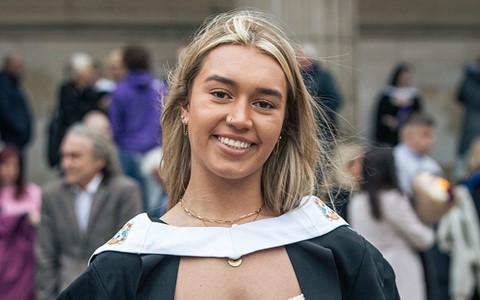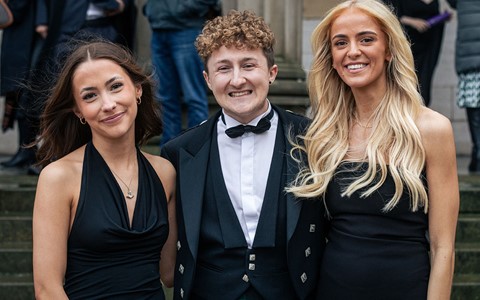 }