Dundee and Angus College students get creative to share their experiences of digital safety
Students from Dundee and Angus College have spent the past 7 weeks working in partnership with local theatre company, hidden route, to develop a piece of creative content that conveys their personal experiences of safety in digital spaces.
A diverse group of women from across the College took part in this extra-curricular project, titled Taking Space: Digital, which will culminate in their work being shared across the city as part of the 2021 NEoN Digital Arts Festival; a 4-day event beginning on 10 November. Under the theme 'Wired Women', this year's festival will seek to address the digital gender divide and highlight the contribution of female and nonbinary artists in shaping the digital and technology-driven arts sector.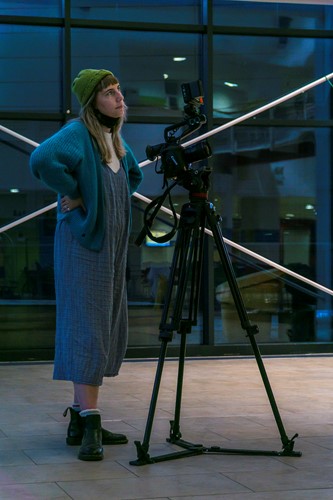 14 female D&A College students enjoyed participating in this unique collaborative project which involved working with local theatre artists to discuss, debate and develop their own responses to digital safety. These collective experiences were then conveyed creatively through the mediums of acting, dance, art, and music. The final productions have been recorded and are being shared through pieces of eye-catching digital art which will be displayed city-wide for the duration of the festival. They can also be accessed through the festival's online platform in the community space.
Meg Simms, Dundee and Angus College Learner Engagement Officer, explains how the project has benefited the students who took part; "This has been a great opportunity for our students to work with inspirational and talented creative professionals. Each and every individual contributed a huge amount of time, creativity and passion! The students found the courage to share their own experiences with a public audience, learned new skills and developed their social and professional networks. The College has been delighted to support the project and give our students the platform to participate in such a meaningful experience."
Lisa Williamson, co-artistic director of hidden route and the driving force behind the project, says, "Taking Space is a project about connecting with and hearing the stories
of women and non-binary people in Dundee and it has been a real pleasure to connect with this brilliant group over the past seven weeks. Their honesty, trust, curiosity and willingness to try something new has been inspiring. I can't wait for the public to see what Taking Space: Digital has to say."