College unites with local girls' football club
A global pandemic has been a huge challenge for sporting activities but it hasn't stopped a great new partnership kicking off between Dundee and Angus College and Dundee United Girls Academy.
The Girls Academy has quickly grown from just an Under 9s team in 2019 to four different age groups in 2020. Interest has been so great there is now a second Under 11s team and an Under 17s for the 2021 season.
Georgia Carter, Girls' and Women's Development Officer at Dundee United Community Trust, realised the girls needed a venue base to continue their improvement and provide new opportunities. She contacted Darren Foy, Sports Centre Manager at D&A College's Gardyne campus, and together they came up with an exciting plan which provides a home ground for the Under 15s and Under 17s, access to the gym and a specialist strength and conditioning coach.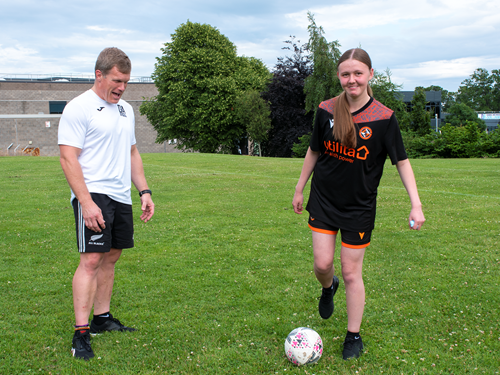 Georgia says, "The partnership between Dundee United Girls Academy and Gardyne Sports Centre is a real example of two like-minded clubs coming together with the best interests of the girls' and women's game at heart! Gardyne has been a huge asset to the Girls Academy and with the shared understanding and access to more facilities, it has provided us with the chance to continue to grow and develop the club.
"We are still in the early stages as a youth club but that can be easy to forget due to the great successes we have had so far. This is just the beginning for Dundee United Girls Academy and with the College on board, the players are in the best hands!"
The Girls Academy aims to provide girls within Dundee the opportunity to play football, and to ultimately be a support for Dundee United Women's Team. Several players are already pushing through so it shows potential to be a special pathway within Dundee.
D&A College's Darren Foy says, "Dundee United Community Trust is a fast growing, forward thinking club and when the opportunity arose with Georgia and the team it was very exciting for us. The partnership allows us to work together to support the girls in terms of strength and conditioning, tactical analysis facility and training, and match facility. It also provides the opportunity for our sport students to gain valuable experience working with experienced coaches within a variety of disciplines in a professional environment."