Partnership between D&A College and Dundee FC Community Trust provides placement for young people
Students in the Pupil Access to College and Employability (PACE) course, a partnership course between Dundee City Council and D&A College, have been given a work experience placement opportunity with Dundee Football Club Community Trust. 
PACE is a full-time course that takes place at Dundee and Angus College and has been designed to support young people in their last 6 months of compulsory education who have disengaged from full-time mainstream education. Students on the course have full support from the Access and Supported Education department at D&A College and a team within Dundee City Council's Offsite Education Service. 
Through its business partnership with Dundee Football Club, the college has been able to secure a placement for the PACE students at Dens Park with the club's Community Trust. This partnership was established almost one year ago in June 2022 when the club moved its home base from Dens Park to D&A College's Gardyne Campus. Since then, the symbiotic partnership has seen a number of benefits for both the club and students, such as access to qualifications for football players and industry-based work experience for students. 
The placement, which began on 13th March 2023, offers the students a practical setting to learn the employability skills that they study in the classroom. At Dens Park, the students gain hands-on learning in different types of employment available from groundskeeping to hospitality and retail. The Community Trust team also provides insight into Dundee FC as a business, giving the students confidence to meet potential employers and understand expectations in a workplace. 
Whilst providing a fun way to learn outside of the classroom, the placement has also allowed the students to work towards a Saltire Award, a nationally recognised Scottish Government certificate that recognises the commitment and contribution of young volunteers in Scotland. 
"As a lecturer, it has been exciting to take our learners out of the classroom and deliver learning in new and innovative ways," says Sara Low, Curriculum and Quality Leader for Access and Support Education at Dundee and Angus College. "The partnership with Dundee Football Club has given us the opportunity to enhance our delivery with experienced-based learning.
"Working with the Community Trust has helped our students develop a positive mindset and has increased attainment. They feel more confident as they are developing a wide range of transferable skills and it has been amazing to see them build relationships with the Community Trust staff. 
"When I asked them what skills they feel they are developing from the placement, their answers were: commitment, precision and attention to detail, caring about the work that we do, ability to focus, working under pressure and time management. It really has been a fantastic opportunity for them to learn all these important skills for working and therefore preparing them for positive progression."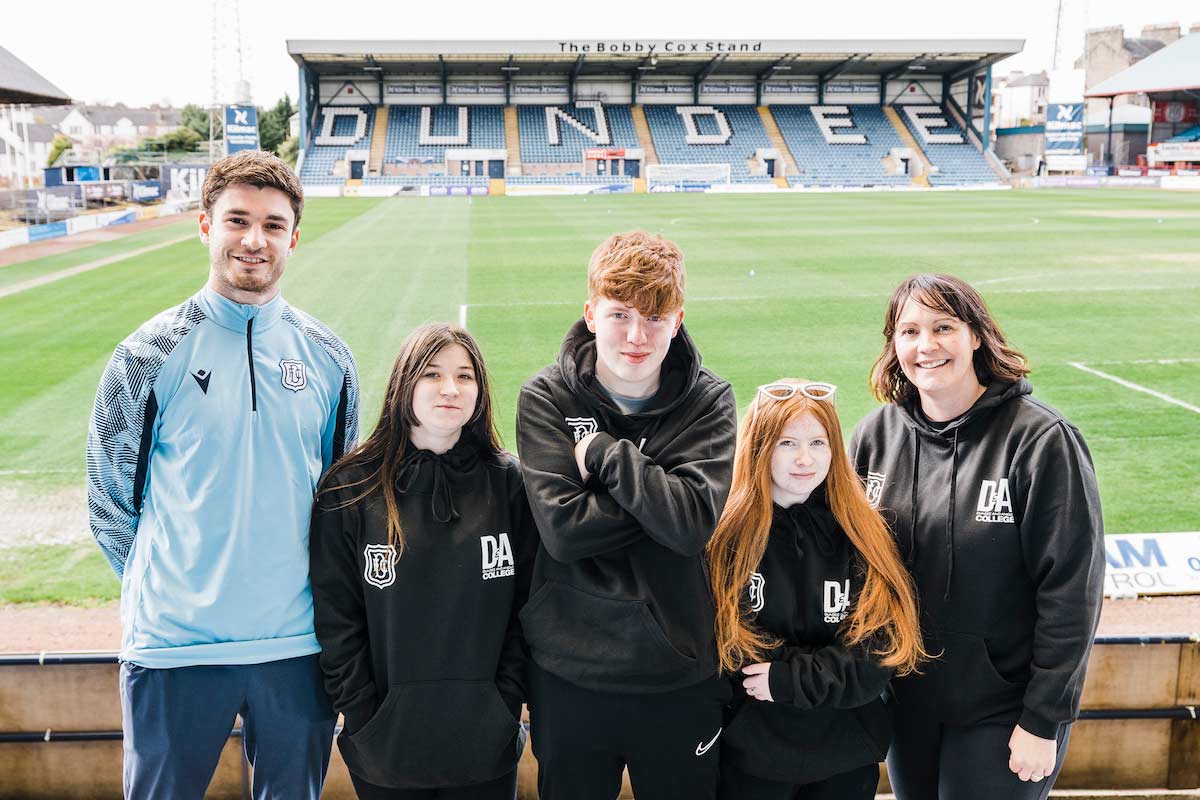 Jack Nelms & Sara Low with some of the PACE students at Dens Park.

Jack Nelms, Head of Education at Dundee Football Club Community Trust noted, "The placement learners have been great, they take initiative and are very hard working. It is nice to see their confidence and motivation grow every week. It isn't very common for colleges to be able to offer students work experience in a professional football environment so the Community Trust is delighted to play a part in enhancing the learning experience and preparing these students for the world of work." 

}