5 of the best ways to attract & retain hospitality staff
With the Scottish Hospitality Industry being one of the hardest hit through the Covid pandemic period, business owners were already on the backfoot.
When they were finally able to open their businesses again following restrictions, employers found it hard to find staff to keep up with demand leading to reduced hours or alterations to their offering - this impact is still being seen today.
With employees changing industries during the pandemic and the likely impact of Brexit, the knock-on result is that the talent pool of experienced employees is far smaller. Businesses are therefore needing to look harder than ever to attract and retain staff to fuel their business.
Five ways to attract and retain staff in your hospitality business
1. Create a talent pool to recruit from
Recruitment is often tackled reactively to fill a role when someone leaves a business. Managers often find themselves firefighting the situation, with staff becoming overworked to cover the gap.
By prioritising head count and recruitment as a key deliverable for the business, you can start looking at the bigger picture and create a strategy to solve it.
Ideally what you want as a business is a talent pool that you can go to when you have an actual vacancy, a warm group of people that already like your business, what you stand for and how you operate.
In order to do that you need to look at 'promoting' your business as a brand and workplace, encouraging people to provide their contact details even when there isn't a job vacancy. They will do this because they want to be first in line for being interviewed when a job does become available.
How to create your own talent pool
Create a 'careers' page on your website to talk about what it is like to work at your business, why not create a video to show what a normal day is like. Perhaps get staff members to talk about why they love working there, highlighting career progression and benefits. Not got a website? Use social media and split this into posts that go out regularly.
At the bottom of the website page or social media - allow people to submit their details so that they can be made aware of upcoming vacancies. You could even ask them to upload their current CV and shortlist people.
It doesn't need to be complicated. 'Google Forms' could even be used if you don't have a website to electronically record this information placing the link on the social media post - taking the heavy lifting out of the administration.
Here is an example from https://careers.apexhotels.co.uk: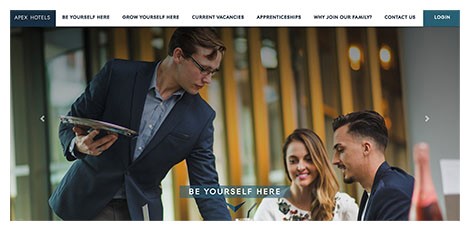 All you then have to do is drive people to this location - you could do this by putting posters in your own establishment, raising awareness of your business by partnering with D&A College, sharing it on social media, or looking for opportunities online such as Dundee Chamber of Commerce or targeted websites like www.hospitalityjobsuk.com
Focus on building this talent pool on a consistent basis and you should always have a pool of warm recruitment leads to follow up on.
2. Interviewing candidates with less experience
It is easy to overlook people without experience, or who do not have the exact skill set for the job you are looking to fill, we can feel your despair from here.
In a busy hospitality business - You just want a fast fix!
However, with a smaller talent pool to draw from, now is especially the time to give these people a chance. With many jobs, attitude to work is everything and with the right training and support, once-overlooked candidates can be transformed into engaged employees who will thrive in your hospitality environment. Trial shifts can be a great way to test their appetite to learn and develop.
Related content: Training for Hospitality Business
3. Highlight employee benefits and consider incentivising pay
The hospitality industry has many roles that are traditionally low paid; however, these employees need to bring their 'A game' every day. Stressful situations can be found on a daily basis for them, be that in the heat of the kitchen, the precision of housekeeping standards or interacting face to face with the public in a restaurant or reception environment.
Paying staff the living wage can make employees feel valued. Nevertheless, going one step further and incentivising them with additional benefits, could help dramatically with their engagement and therefore loyalty to stay.
Benefits could include:
Free food on shift, with the living cost crisis this seemingly simple offering can be highly valued.
Length of service bonuses to recognise loyalty
Discounts available off-shift
Small thank you gifts to illustrate that you value their efforts
Health & wellbeing allowances/gym memberships
A career development plan (see below)
4. Create a positive work culture
Employee happiness is so important.
Having fun at work creates positivity and better wellbeing amongst the team. Businesses that prioritise and proactively manage culture will usually see lower levels of absence, mistakes and people leaving the organisation.
Whether you are a big or small hospitality business, there are a number of ways you could influence work culture:
Ensure there is an understanding of your business purpose & culture
By being clear on what you want to achieve as a business and the desirable values you would like the team to demonstrate, everyone will be united with a common goal.
Clear job descriptions
When people understand and know what is expected of them it is far easier to manage.
Get the team together
Regular team meetings or quarterly events can create friendships and help engage teams.
Prioritise health & wellbeing
A healthy body and mind makes for a productive person. It could be as free and simple as a daily walk or ensuring your team has access to equipment or specialist support that could help them.
> Did you know Dundee and Angus College provide Mental Health training?
Remember the bigger picture
It is easy in the fast pace of the hospitality industry to fall into the daily grind trap, crisis managing stressful situations, and perhaps jumping to conclusions or making quick decisions. By remembering the bigger picture, and the positive environment you want to create, it can help you take a pause and deal with the scenario in a calmer, more considered manner.
5. Prioritise training & development
Hospitality often sees high staff turnover, with many companies on a constant recruitment drive. This can lead to managers being distracted by short-term thinking.
Businesses who invest time in employee training and development will increase staff motivation, productivity and quality of performance. Employees who are trained and upskilled are far more likely to have a long-term commitment to their employer. Not only that but it also actively attracts potential employees to your business.
Why?
Because it demonstrates that you care about them and their development, and don't just see them as a commodity. Your people are your strongest asset, invest in them and your business will benefit enormously.
At Dundee and Angus College we offer a huge array of courses, many of them fully funded for Scottish businesses. A few course highlights for hospitality include:
Allergen Awareness
Safe Service of Alcohol
REHIS Advanced Diploma in Food Hygiene
Level 2 Professional Cookery
Level 3 Patisserie and Confectionery
Training can be tailored for business needs and we would be happy to work alongside you as a training partner. Working with our Business Partnership Team, they can also advise you on the funding that could be available for you.
For more information view our Hospitality eBook.
Case Study: The Rookery at Carnoustie Golf Links
Dundee and Angus College has a long-standing partnership with The Rookery at the prestigious Carnoustie Golf Course. Their team have been upskilled through many of the courses seen in our Hospitality eBook and they have also undertaken other exclusive and specialist training such as one-to-one chocolate training sessions with our expert Patisserie and Confectionery team.
This year, D&A College has created a bespoke training course by working closely with the team at the restaurant to ensure that their staff receive the right skills to uphold The Rookery's excellent standard of customer service, especially over the festive period.
In Summary
The hospitality industry can be tough going at the moment, but it is important to think about the bigger picture when planning staff recruitment and retention.
Get out of firefighting mode and create real strategies to make your hospitality business an attractive place to work.
Did you know?
Did you know that we offer a free skills analysis to businesses who are unsure about their training needs? Get in touch with our Business Partnerships Team for a free Training Needs Analysis and to learn more about how D&A Business can help you and your business needs.
You also may be eligible for funding to train your staff. Please click here to learn more about funding for your business such as the flexible workforce development fund which you can register for here.