Dundee FC invests in new home at Dundee & Angus College with Sporting Centre of Excellence
Dundee & Angus College's Gardyne Campus has been proving to be more than just a home for Dundee Football Club as it moves forward with plans to build a Sporting Centre of Excellence.
The club entered a four-year strategic partnership with Dundee & Angus College seeing Dundee Football Club move its base from Dens Park to the existing Incubator space at the College's Gardyne Campus in June 2022.
The 12,000sq ft space houses all facets of Dundee Football Club under one roof including its management team, staff, footballers, Academy, Dee Promotions and Community Trust. The move has seen a more streamlined and cohesive working environment resulting in overall savings for the club.
In the last seven months, Dundee FC has invested in and benefitted from the use of the facilities at Gardyne such as its two grass pitches, four indoor halls, gymnasium, weight room, swimming pool, tactical and analysis room as well as a space to host press conferences.
John Nelms, Managing Director of Dundee Football Club said, "The football club has really grown since moving here. We have the ability to utilise a multitude of resources that we've never had before.
"As we continue to expand our partnership, we are focused on building a Sporting Centre of Excellence that not only our players, Academy, Community Trust, and the students will benefit from but also our local community. This is solely down to the relationship that we have with Dundee & Angus College at the Gardyne Campus."
This Sporting Centre of Excellence that the club is focused on building at Gardyne will see the exterior facilities gain an elite standard grass pitch and a professional Astro Turf pitch that the football club, Community Trust and wider community will all be able to utilise.
Gordon Strachan, Dundee FC Technical Director commented, "Moving our base here has been fantastic, we have the facilities that no other Dundee manager or player has ever had before. Being here allows us to develop top level players but most importantly it helps us develop top, young men."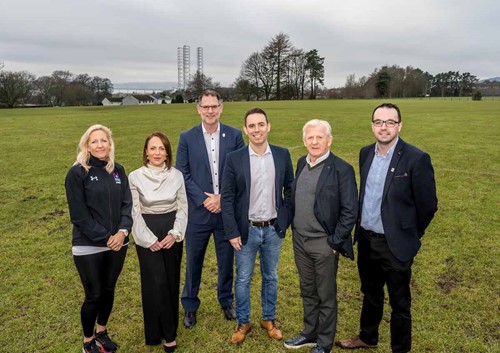 (Pictured left to right: Sarah Ramminger, Head of Sport & Fitness Curriculum at D&A College, Caryn Gibson, Business Partnerships Manager at D&A College, John Nelms, Managing Director of Dundee FC, Simon Hewitt, Principal of D&A College, Gordon Strachan, Technical Director of Dundee FC, and Greg Fenton, General Manager of Dundee FC)

The symbiotic relationship between Dundee & Angus College and the club is seen as more than just an investment into the facilities. The alliance between both parties has a holistic approach with its focus being on both physical fitness and mental wellbeing. Not only do students gain opportunities by having access to a professional football team on campus but the players at the club also gain access to education and other career opportunities.

"With the partnership we've got here with the college, they can be footballers but it's also their base to go and set them out for life," states Strachan.

Football is known for not having high success rates of players turning professional. According to a study conducted by the English Football Association, less than 0.5% of under-nines signed to professional teams will make it to the first team.

Caryn Gibson, Business Partnerships Manager at Dundee & Angus College noted, "Unfortunately in football, there is a high rate of individuals not making it to a professional level and that can be really difficult when someone has put their all into trying to achieve something.

"So, what we want to do is ensure that whilst players are here on campus and training, they are gaining a wealth of other skills and qualifications that can help them understand what other careers exist for them in the future if they don't make it as a professional football player."

When asked about the partnership and the club's move to the Gardyne Campus, Gibson said, "For me it was a no brainer. The space itself that the club, Academy and Trust have moved into is a fantastic facility that as a college we weren't using to its fullest potential, so it made absolute sense to get a professional sports club in here to let their business thrive in this space. I'm really excited about the opportunities that this partnership has for both sides."

 

}