Dundee & Angus College Business team empowers young girls through sponsorship of Dundee FC's first ever girls team
D&A Business, the Business Partnerships Team at Dundee and Angus College, are helping Dundee FC Community Trust establish a girls pathway into football and much more by sponsoring the club's first ever girls team. 
Launched in November 2022, the team hosts free football classes to Under 8 and 10-year-olds in the Dundee City region, and coached by James Morrison, Head of Community Football at Dundee FC Community Trust, who has taken on the project for the trust.
It was only in June last year that Dundee Football Club entered a four-year strategic partnership with Dundee & Angus College, seeing its home base move to the college's Gardyne Campus. With the club now being based at Gardyne, D&A Business and Dundee FC Community Trust decided to join forces with this sponsorship in order to provide educational and fitness opportunities to these young girls.
Declan Gall, Business Development Manager at Dundee FC Community Trust said "We managed to secure funding to establish the girls pathway last year and we are delighted that the girls have already begun playing matches in their new kits that were secured thanks to our sponsors." 
When asked for his thoughts about partnering with D&A Business, Declan said, "We also offer educational programmes at the trust and value educational opportunities for our young people so it made perfect sense to work with D&A Business on this as we are already in a partnership with them. 
"The sponsorship is more than just a logo on a shirt, being on campus allows us to give our girls team members access to educational experiences they may not get anywhere else at a grassroots level, particularly in STEM subjects (Science, Technology, Engineering and Mathematics)."  
With over 90% of Dundee & Angus College students coming from the highest deprived areas of Dundee, the college is no stranger in advocating for accessibility and inclusivity in education and sport. Through the sponsorship of the girls team, Caryn Gibson, Business Partnerships Manager at Dundee & Angus College, wants to focus on encouraging young girls into STEM subjects and careers if it is a path they are interested in.
According to UCAS data through the Higher Education Statistics Agency (HESA), women make up 35% of STEM students in higher education in the UK. When looking at the subject breakdown, only 19% of women are studying computing or engineering and technology subjects.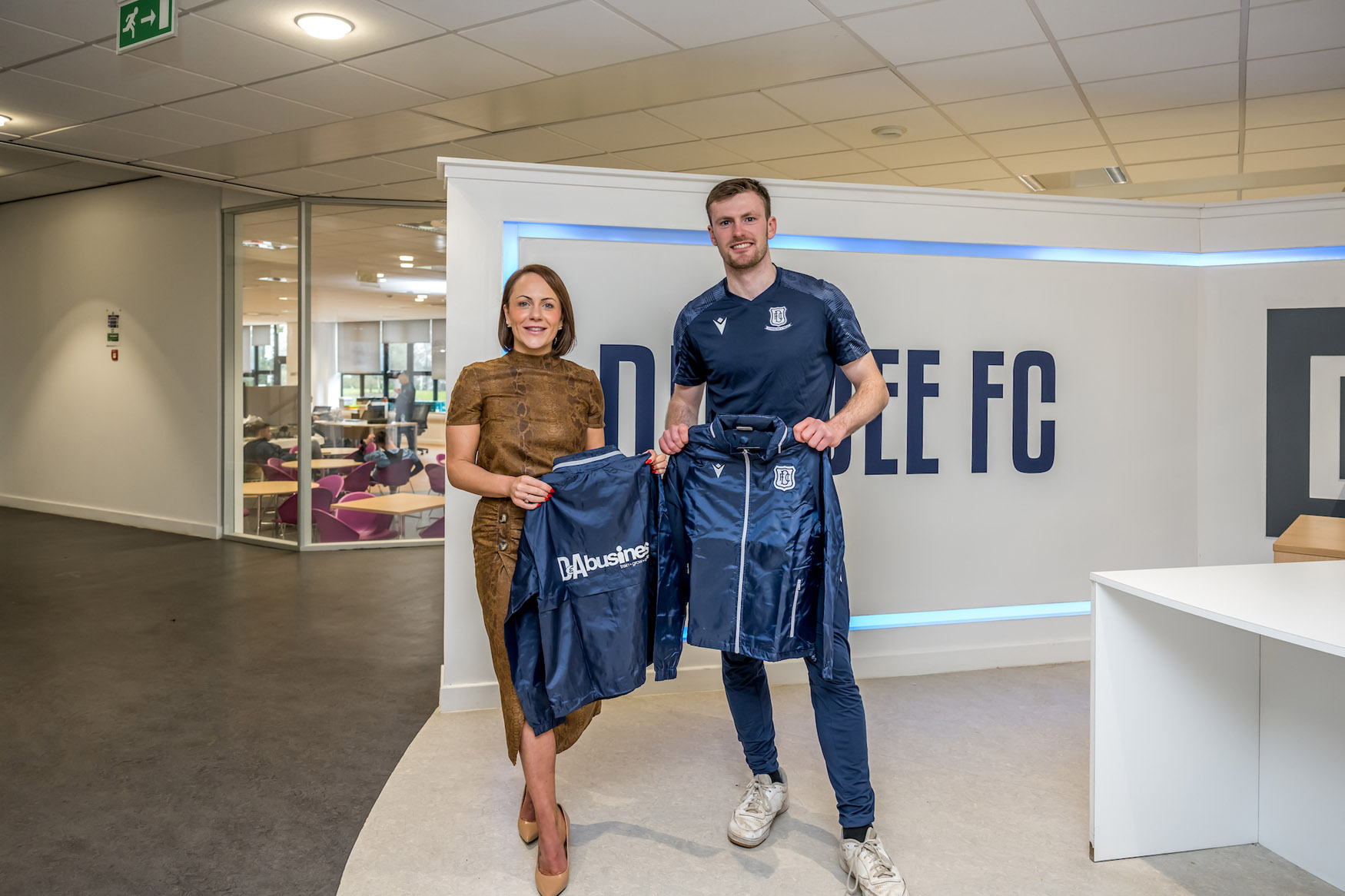 Pictured: Caryn Gibson and Declan Gall

"There is a holistic approach to this sponsorship," notes Caryn. "We want to empower these young girls throughout every aspect of their lives, not just sport. The college has incredible facilities, particularly for STEM subjects with our green skills academy that we are building in partnership with Michelin Scotland Innovative Park which will focus on capabilities and emerging technologies needed to achieve Net Zero.

"Along with our green skills academy, we have virtual reality headsets, robotic devices, electric karts and all kinds of other resources that can give these girls insight into future job opportunities in the renewables sector. If we can expose these young girls to STEM opportunities at the earliest point possible, then these experiences might be the ones that inspire these young girls to go on and pursue careers in STEM." 

}