Vehicle Recovery and Maintenance: What are the differences between an electric vehicle and a normal petrol/diesel vehicle?
With electric vehicle (EV) ownership skyrocketing across the UK, the market is quickly changing and as a vehicle garage you can see that you will need to adapt to this change.
As you have probably been working on cars for decades and consider yourself an expert, this feels quite daunting, to have to learn new skills and be confident enough to talk to customers around the subject.
Right now, if someone came into your garage with an electric vehicle would you know how to safely and correctly repair it?
While there are a lot of similarities between EVs and internal combustion engined (ICE) vehicles, there are also many more differences which means updated knowledge and skills are required to maintain them.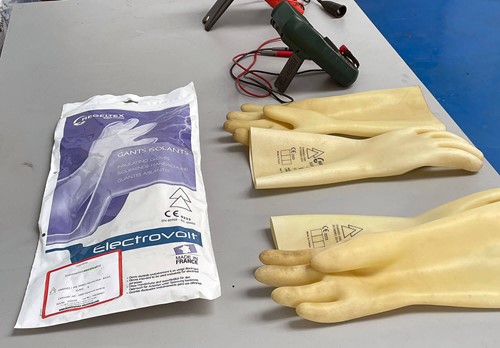 In what ways are Electric Vehicles(EV) and internal combustion engined ICE vehicles similar?
If you have ever driven an EV, you will likely be aware that the experience is very similar to driving an automatic ICE car, within the cabin everything is laid out where you would expect it to be, and although there is no engine noise, the process for the driver is pretty identical.
Likewise, EVs are designed so that basic car care such as checking and correcting tyre pressure, topping up washer fluid, replacing wiper blades, and cleaning are all the same as any other vehicle on the road.
It is under the bodywork where things get really different and risks can increase significantly if the right precautions are not taken.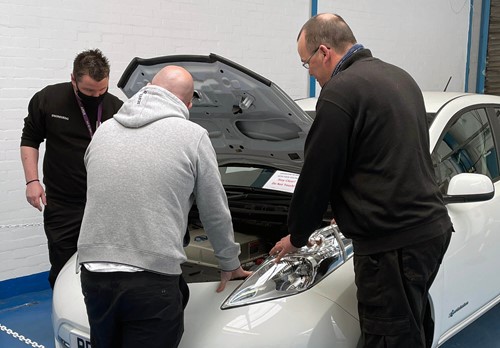 In what ways are Electric Vehicles(EV) and internal combustion engined ICE vehicles different?
Electric Vehicles have no engine or gearbox
This might seem obvious, but many people are still surprised by the fact that an EV has no gears, and instead the accelerator pedal works very much like the trigger on a Scalextrics controller. However, just because an electric vehicle has an electric motor rather than an internal combustion engine, does not mean it is any less complex to maintain.
Electric Vehicle: Regenerative braking
While EVs have disks and pads like any other car, they also utilise regenerative braking to slow the car down using the electric motor. This means the physical brakes are used a lot less, while this has positives and negatives - they will last longer, but are more susceptible to corrosion from under use.
Electric Vehicle: Fuel System
With a traditional ICE car, fuel is held in a tank and pumped to the engine through a single line. EVs can have one or multiple battery packs located around the car and either a single drive motor or one for each wheel, meaning high voltage cables running all over the vehicle. In an EV these are bright orange to differentiate them, but you should check the technical manual for the car to see if there is an isolation switch located somewhere in the vehicle to make it safe to work on, however this should only be done by a qualified technician due to the potential safety risks involved.
Electric Vehicle: Roadside Recovery
Many manufacturers recommend that EVs shouldn't be towed as the car's electric motor is mechanically linked to the wheels and can't be placed in neutral. Towing one can cause lasting damage to the car's powertrain, which can also increase the risk of fire.
There are some exceptions to this, but it is on a vehicle by vehicle basis and in an emergency, it is better to avoid any additional risk where possible.
Therefore the two safest ways to recover an EV are by lifting it completely onto the bed of the recovery vehicle, or by using a dolly attached to the rear wheels which locks the wheels of the vehicle in place, but still allows it to roll along the road surface.
Be aware though that winching an EV onto a recovery vehicle can also cause damage to the drivetrain or increase the risk of incident.
EV Training School

With more and more EVs on the road, being trained in how to repair and recover them has never been more important, which is why Dundee and Angus College established the first EV maintenance training centre in the North of Scotland to provide essential skills to mechanics, first responders and others in the motor industry on how to deal with this emerging technology.

For more information on the centre and our courses, please contact our Business Partnerships Team on 01241 432 724 or email business@dundeeandangus.ac.uk

}