Find your way at D&A
"What do you want to be when you grow up?" That's the question many of us struggle to answer and often even when we leave school, we're still none the wiser.
That's where Dundee and Angus College comes in. We offer courses for everyone – whether you've just left school, need to re-train or would like to try something new. And don't just take our word for it, here some of our learners explain how choosing D&A College really did change their life...
Support and encouragement helped Fraser succeed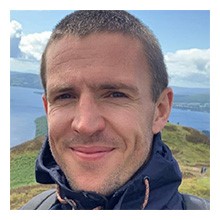 Fraser Burnett felt he never really found his place at high school and left at the age of 15.

"I was quite sporty at school, so I was advised to think about studying at college. I went in for a meeting at D&A College and felt like it was the right place for me. Straight away I felt looked after and supported."

Fraser studied Sport Coaching where he learned about how to coach a variety of sports and working with young people.

"I then did modules that prepared me to go on and study Sport Science. I really enjoyed the more scientific side and learning about the physiology of the body."

Fraser knew he wanted to become a teacher so, to further develop and broaden his knowledge, he studied Essential Skills courses in Mathematics and Communication. He is now a primary teacher at an independent school in Edinburgh.

"I really appreciated feeling supported and encouraged by the staff throughout my entire time. I was lost when I left school and they pushed me and really wanted me to succeed. I'm proud that I persevered with my dream and that college helped make it possible."
Choose to start your Sports journey by checking out our Sport courses.
A dream come true for Cheryl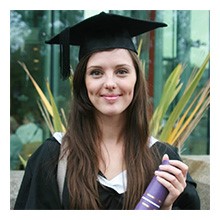 When Cheryl Appleby began her Retail Management course at Dundee and Angus College she had no idea where she wanted to go with her career.

"The course helped me understand a wide view of possibilities and areas of business that I never knew existed. Teamed with the support from the staff, the HNC/HND experience was a well-structured way to prepare for university."

After college Cheryl studied the step course to Fashion Management at RGU, joining directly in third year of university.

"The bridge degree from college to university was excellent and I had all the relevant knowledge and understanding to successfully complete my degree with a first class honours and an award for the best dissertation."

Cheryl quickly gained employment in London in the field of Merchandising.

"This was an area I decided I wanted to work in. Merchandising embodies analytics, business strategy, product management and is predominantly numbers focussed, however it remains within a creative environment of buyers and designers which is why I love it so much."

Cheryl began her career in London working for Kurt Geiger as a Merchandise Admin Assistant and now has a Merchandiser/Planner role with Burberry.

"To work for a British institute such as Burberry and to be responsible for managing and strategising the core assortment worth hundreds of millions of pounds a year is a dream come true. I am very proud of my achievements but none of this would have been possible if I hadn't joined that first course at college that lead me down this path!"
Choose to start your Retail journey by checking out our Retail courses.
A solid foundation for the future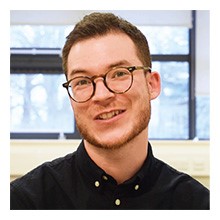 Before coming to college, Matthew Topen worked in a shop.

"I was fed up and didn't find the work mentally stimulating. I started looking for a new job and discovered many required an HND or degree."

That's when Matthew decided to sign up for an accountancy course at D&A College.

"Being a slightly older student, I was a little nervous. I thought I might feel out of place, but it wasn't like that at all. From the first day, everyone was really welcoming, and the lecturers were great. The best thing about starting off at college rather than going directly to university is that you're in a class of about 25 people so you can just stick your hand up and a lecturer will come over and help you."

When Matthew progressed from college to university, he was worried it would be difficult going directly into third year.

"That wasn't the case as I soon realised college had already provided me with a solid foundation of the fundamentals of Accounting and Finance. I felt in a better place than those students who had just been at university, purely because in college the lecturers are very hands-on with you. I would 100% recommend going to college before university!"

Matthew is now in his final year at Heriot-Watt University in Edinburgh.

"I've managed to secure a graduate job as an auditor at Deloitte, so I feel like I'm in a good place." 
Choose to start your Accountancy journey by checking out our Accounting courses.
It's never too late to change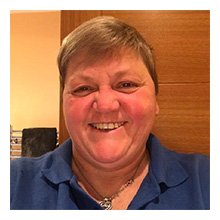 When Heidie Hird reached her fifties she decided it was time to for a change.

"I opted to study Travel and Tourism at Dundee and Angus College. The staff were friendly and helpful when I attended my interview and explained everything which, as a mature student, was important to me. Once I started going to lectures I was fascinated by the subject topics and choices."

Heidie progressed from NC to HNC then HND.

"I was encouraged throughout by my lecturers who believed in me and the door was always open if I needed help. I loved the fact that I still have many of my classmates as friends and we keep in contact and encourage each other with everything. I am proud that due to my work experience over the years I was able to help a lot of my classmates with some of the role play assessments. The younger students were really nervous about their abilities. I was able to sit with them and encourage them by working on their strengths and weaknesses."

When Heidie first started studying Travel and Tourism she was unsure which path she wanted to follow.

"The subject choices gave me a wider range of knowledge so I could make more certain choices. I was aiming to be a Tour Guide or a Tourist Information Officer but Covid 19 changed all that. This inspired me to attend university as I had the knowledge and confidence gained through my three years at college. As I had passed my HND I was able to go straight into 3rd year of my course at Stirling University."
Eventually Heidie would like to start a tourist information business, specialising in disabled tourism. She would also love to be a Tour Guide. Here she sums up her experience: "Never be afraid to take the opportunity to change your life. I did it at the age of 51 and it was the best move I could have made."
Choose to start your Travel and Tourism journey by checking out our Travel and Tourism courses.