Qualification Types Explained
Most subject areas offer courses at various levels, meaning that there is something for everyone!
Qualification types
Entry level: SCQF 1 – 3
Courses designed to meet the individual needs of learners, these will incorporate essential skills, personal development and a range of activities and opportunities to support you as you prepare for next steps.
National Progression Award (NPA): SCQF 2 – 6
NPAs are aimed at developing students' knowledge and understanding and, where appropriate, practical experience of a given area of vocational education.
The aim is to provide a solid basis for progression into further education and training, as well as higher education, while developing students with a more mature approach to study that will help sustain success in Modern Apprenticeships and in HNC/HND study and beyond.
Intro: SCQF 4 – 5
Often requiring no formal entry qualifications, an introductory course might be for you if you are just starting out and can demonstrate an interest in, and aptitude for, a particular subject.
Your course will include subject-specific study, activities and projects, as well as opportunities to develop core and essential skills to support your progression to further study and/or employment.
Scottish Vocational Qualification (SVQs): SCQF 4 – 11
SVQs were designed to improve the skills of the nation's workforce. These qualifications are available for a wide range of occupations and are offered at SVQ levels 1 – 5. They are an excellent route for you to enhance your career development. Some SVQs are work-based, some delivered in the College and others through a mix of College attendance and work-based training.
Non-Advanced: SCQF 5 – 6
Across all of our subject areas, you will find a range of non-advanced courses. These include National Units, National Courses (including Highers), National Certificate Group Awards and college-devised Certificates (groupings of units in a subject area). Courses will include core and essential skill development to support your progression into employment or further study at a more advanced level.
Modern Apprenticeship (MA): SCQF 5 – 7
Modern Apprenticeships offer anyone aged over 16 paid employment combined with the opportunity to train for jobs across a wide range of sectors. They are an exciting way of gaining skills and qualifications that will help to start a career without having to study full-time. You will be employed from the very start of your training and will receive a wage from your employer. You will then be given the chance to develop expertise and knowledge through on-the-job assessment, as well as gaining vital skills such as teamwork and problem solving.
Find out more about the Modern Apprenticeships that we offer.
Foundation Apprenticeship (FA): SCQF 6
Foundation Apprenticeships are a work-based learning opportunity for secondary school pupils in S5 and S6 developed to give valuable, real-world work experience while still at school. Pupils spend time at college and with a local employer, working towards an industry-recognised qualification as part of their school timetable.
Find out more about the Foundation Apprenticeships that we offer.
Professional Development Award (PDA): SCQF 6 – 12
PDAs are designed for those already in a career or vocation who wish to broaden or extend their skills bases. They are ideal for developing your skills, as well as for CPD (Continuing Professional Development), so employers can use them to support the enhancement of employees' skills.
Higher National Certificate/Diploma (HNC/D): SCQF 7–8
These are SQA qualifications which will provide you with both the practical skills you need to do a job and the theoretical knowledge your employer will expect you to have. They also help develop advanced study skills and the generic core skills necessary to progress to university. Some HNCs allow direct entry into the second year of a degree qualification and some HNDs allow direct entry into third year.
Please see our Articulation Routes page for more information about progressing to university from D&A College.
BA Ordinary/Honours degree: SCQF 9-10
Our degree courses are validated by our partner universities. Entry to these programmes is typically through our HNC/HND courses or equivalent experience. These courses include practical work supported by academic studies and aim to produce independent, self-reliant learners who are prepared for employment or higher-level study.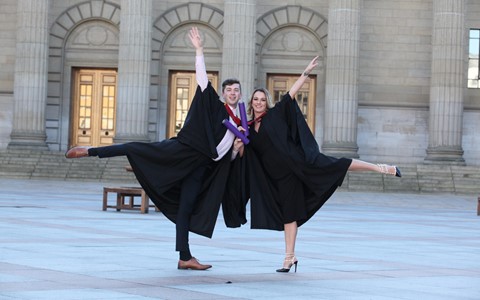 }