"The kids I coach make me so proud"
Basketball-mad D&A College student Shannon Torrie has been putting her considerable skills to very good use by volunteering to coach youngsters at various locations throughout the region.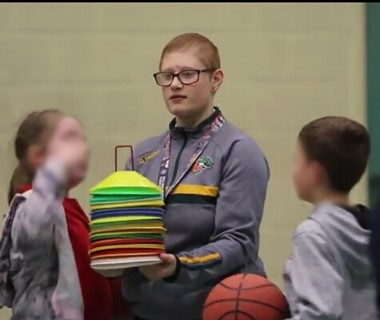 While studying for an Advanced Certificate in Coaching Sports and Fitness, Shannon did more than 300 hours of volunteering making her numbers the highest among the student population taking part in the D&A Attributes programme. This initiative focuses on building soft skills, interpersonal skills and career management skills – all helping learners become successful in their work and personal life.
Here, Shannon shares her story . . .
"I coach a variety of different ages within Tayside Musketeers Basketball Club (Muskies) but mostly under-10s and under-12s. I provide an inclusive, safe and friendly environment where children can come together to learn and develop new skills and techniques while, most importantly, having lots of fun playing basketball.
"As well as doing club sessions I have the role of publicity officer so I visit various schools to deliver an hour-long fun taster session to different age groups and hopefully encourage more participation by females in sport.
"There have been so many highlights over the past year. One was the rebirth of our Jr. Women squad. At the start of the year I was one of just two female coaches, we had no girl/women squads and we had just a few females in our mixed sessions. The Jr. Women had only been together a matter of weeks when we had our first game and I have never been so proud to stand on the side-lines and watch a new generation of Female Muskies. It has been amazing to see a small increase of females within our club.
"Another highlight has been recognition from BasketballScotland, the sport's governing body, who did a video interview with me which was seen by hundreds on social media.
"I was also delighted when I was asked to coach under-10s at Tayside Musketeers. The kids make me so proud each week – they are so dedicated, hardworking, enthusiastic and welcome each new person who joins the session. They take on board everything I say throughout the training sessions which shows on game day. This makes it even more worthwhile and I am proud to be their coach.
"Throughout this whole journey I have gained a lot of career management skills which I can carry with me and take into employment. I have learned to be punctual, organised and to take on responsibility and adapt when necessary. I have developed people skills as I have had to interact with participants, fellow coaches, parents/carers, external event organisers, teachers and many more.
"All this has helped me overcome my lack of confidence. At the start of last year, I very much struggled to coach in front of a group of children and relied heavily on the other coaches around me to help me get through it. I can now go out to schools and organisations and deliver a session confidently on my own which has allowed me to provide opportunities for others. If I hadn't overcome this I don't think I could have carried on coaching."
D&A Attributes
D&A College is determined to give its learners much more than qualifications and technical skills. It wants its learners to build a whole series of personal skills and attributes that will help them stand out from the crowd and be very employable.
The college doesn't just offer classroom experience, it gives learners access to a whole range of other life experiences to broaden horizons and develop creativity and enthusiasm.