"The best thing that's ever happened to me"
D&A College student Josh Skea explains how his make-up artistry course helped him face some difficult challenges . . .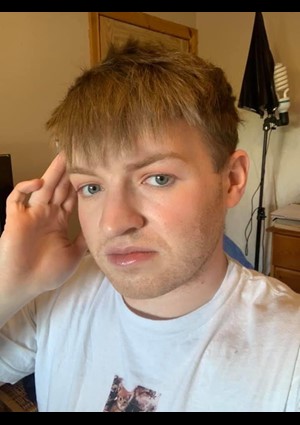 "When I started this course I had no idea how many problems I would have to deal with. I lacked confidence and was constantly doubting myself but my tutors helped me to overcome these issues. I suffered a long-term relationship break-up then the sad loss of my gran. I could easily have given up but keeping going was the best decision I've made.
"My mental health started to improve again thanks to the college. My tutor, Raymond, asked me to join him doing some theatre make-up. I gained loads of experience by volunteering to do work with Scone Palace at Hallowe'en and Christmas. I also often stayed behind after class to improve my skills by getting people to come in so I could practise on them.
"This course has been the best thing that's ever happened to me. I've become such a confident person and I would not be the artist I am today if it weren't for the skills I have gained – being able to think outside of the box, dealing with a variety of people, learning more social skills while discovering more about myself and what I can do."  
D&A Attributes
D&A College is determined to give its learners much more than qualifications and technical skills. It wants its learners to build a whole series of personal skills and attributes that will help them stand out from the crowd and be very employable. The college doesn't just offer classroom experience, it gives learners access to a whole range of other life experiences to broaden horizons and develop creativity and enthusiasm. D&A Attributes focus on building soft skills, interpersonal skills and career management skills – all helping learners become successful in their work and personal life.
Attributes Certificates are awarded at the level learners are currently studying, making it open to all students of all abilities across the college. Josh has gained his Silver Award.