Period Positive campaign goes global
Dundee and Angus College is continuing its drive to eradicate period poverty for women throughout Scotland.
By making innovative use of financial support from the Scottish Funding Council, its 'Period Positive' campaign is designed to not only give women across the spectrum easy access to free period products, but also to focus support and information around the wider health and welfare issues relating to period and sexual health.

In a bid to increase student awareness of sustainable 'eco-friendly' options, the college purchased sewing machines and delivers Sew-Your-Own sessions, where students learn how to sew organic, washable sanitary pads for themselves.
What began with the practical distribution of products to college campuses and learning centres in the Dundee and Angus region has now gone global!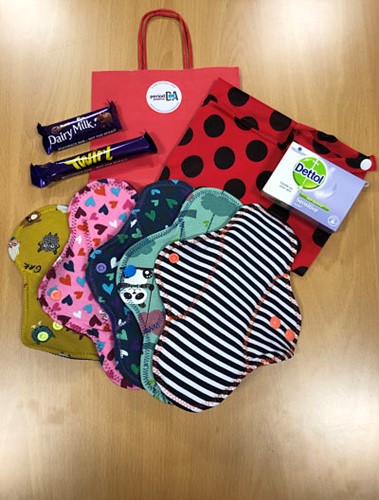 Earlier this year the college donated reusable period products to 20 girls in Kenya. Period Poverty Project Officer Tatiana Zorina linked up with Eunice Achando, founder of Together With One Accord, an organisation which strives to ensure that all children attain the right to education despite their status. Part of its goal is to make sure girls don't miss or drop out of school due to lack of menstrual products.
Eunice Achando passed on the girls' thanks.
"On behalf of Balozi Computing community college in Kenya, I would like to express our thanks to Dundee and Angus College for these period products. We believe together we will make a difference. Thank you so much."

D&A College's Tatiana Zorina says,
"I feel so extremely proud that even during a worldwide pandemic we have managed to deliver on this amazing project. It's fantastic that 20 girls in Kenya have received five pads each, sewn by our Dundee and Angus College students. It's such an amazing achievement. Well done to all involved!"
}