More women are joining in
Joinery has always been seen as a fairly male-dominated profession but, as Dundee and Angus College proves, that's all changing . . .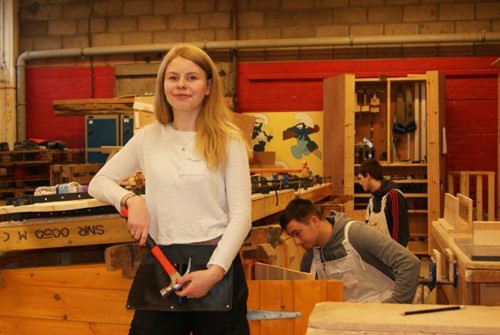 It started as an interest in woodwork at school, progressed to a joinery course at Dundee and Angus College and resulted in an apprenticeship with Stewart Milne for Stephenie Barron.
"I enjoy being practical and I also like maths and floor plans, the more confusing the better," says Stephenie. "I love coming up with ideas, making them and seeing the end product knowing I made that and the wee proud feeling I get."
But what's it like for Stephenie working in what is still seen as a predominantly male profession?
"People are usually pretty shocked. I'm a proper girlie girl when I'm not working. I like wearing make-up, getting my nails done, wearing dresses. Everyone at work has been really friendly and supportive."
And what would she say to any other females who fancy learning a trade?
"You shouldn't be afraid to try it just because you think it's a man's world. If you enjoy it, do it. It's worth it!
Lecturer Steve Rennie says, "The input from Stephenie was amazing and her practical ability and in-depth detail on theory research very impressive. The NPA Joinery course is aimed at teaching male and female students the employability and joinery skills that local employers are looking for in a young person. The very best students are then encouraged, with help from myself, to seek local work experience. The feedback from employers can then be added to the students' CVs to hopefully gain further work experience."
But that isn't the only way D&A College has supported women in joinery . . .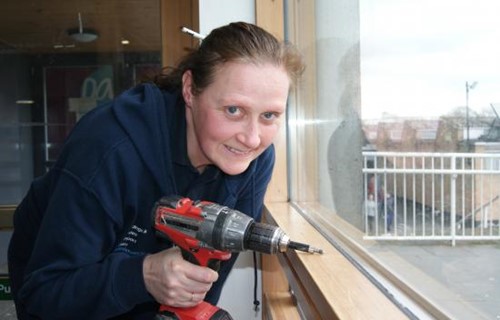 For more than 20 years, Pauline Anderson has been a joiner at the college, working on everything from repairing doors to building shop interiors.

"Nobody ever encouraged me when I left school to become a joiner. In fact, one careers teacher told me, 'You'll never manage it'. Well, that was like a red rag to a bull for me!"

After completing a four-year apprenticeship at a local company in Dundee, Pauline joined the college's Estate staff as one of the resident joiners and has never looked back.

"It's such a great job if you enjoy using your hands and being creative. I like coming home from work and feeling that I've been really productive. My husband is a joiner too and we compete with each other to see who can do the best job repairing things at home!

"I would never put a girl off becoming a joiner as I love my job. I'm thrilled to see younger women joining the trade, but let's not stop there - the more the merrier as far as I'm concerned."

}