Local partnership to eradicate period poverty
Dundee and Angus College is proud to mark Menstrual Hygiene Day by continuing its drive to make period poverty a thing of the past for women throughout Scotland.
Last year, in a bid to increase student awareness of sustainable 'eco-friendly' options, the College purchased sewing machines and delivered Sew-Your-Own sessions, where students learned how to sew organic, washable sanitary pads for themselves. Earlier this year it donated some of these reusable period products to 20 girls in Kenya.
Today a group of staff and students joined Angus Community Planning Partnership (Angus CPP) for a giant Sew Your Own Rally where they sewed reusable pads which will be donated to women who are supported by Women's Aid, to help them with their own menstrual hygiene.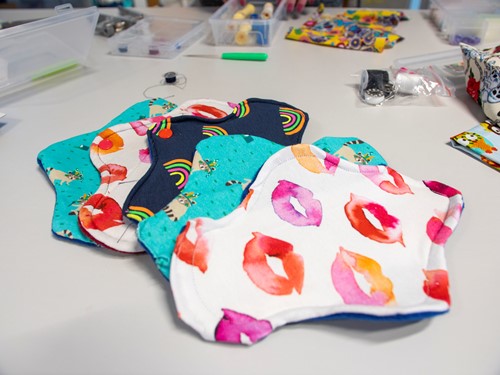 Shelley Hague, Strategic Policy & Planning Manager at Angus Council says, "Eradicating period poverty by the end of 2021 is a key priority for the Angus Community Planning Partnership – through partnerships and collaborations of this sort we are well on target to achieve this vision. The alignment of the college, schools and community provision will ensure that nobody in Angus has to go without period products now or ever again."

D&A College is looking forward to continuing its partnership with Angus CPP and their project Free Period Angus. Katie Baxter, Learning Engagement Manager says, "No one should miss out on education because they can't afford period products, or because they don't have the knowledge to look after their own menstrual health. Working with Angus CPP and other fantastic community partners, we are showing a collective commitment to eradicating period poverty for our students at D&A and the wider community."

}