"I enjoyed being an advocate for the students"
Lynsey, a hairdressing student and mum-of-three, explains how volunteering through D&A College helped boost her confidence and job prospects.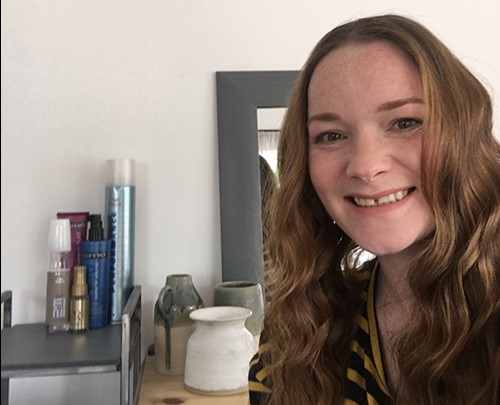 Lynsey Buchan certainly managed to multi-task while studying at Dundee and Angus College. She volunteered at a hair salon, helped run a children's Beavers' group and represented her fellow students as lead and class rep. Here is her story . . .
"As a hairdressing student I wanted to experience a real salon environment so I approached a local hair salon to ask if I could work some hours on a voluntary basis. This involved sweeping floors, making coffees, shampooing clients and helping with colour applications. I have been a housewife for eight years, and I haven't worked in a salon for 20 years, so it was a big step to be working in an environment that I love. I felt I developed a good professional relationship and we've even discussed the possibility of employment after I've completed my course.
"I also volunteered as an assistant Beaver Scout Leader where I helped create and run a programme for 20 children which consisted of organising events such as walks, camps and badge work. I love working with the children and helping develop their skills. They start off shy and timid and very quickly you become a trusted adult to them, and they look on you as a teacher. My own childcare could be a challenge though. I have three children (age 10, 8 and 5), and my husband runs his own business and sometimes works away. I am so lucky to have the support of my dad, who has stepped in to look after the children when needed.
"Throughout my time at college I have discovered that working alongside others is what I love. As lead and class rep, I very much enjoyed being an advocate for the students. I have learnt that building successful relationships and maintaining mutual respect is so important in the success of any working relationship. Everyone has opinions and ideas. The need to communicate, compromise and understand what is required of each person is the way to achieve a goal."
D&A Attributes

D&A College is determined to give its learners much more than qualifications and technical skills. It wants to build a whole series of personal skills and attributes that will help them stand out from the crowd and be very employable.

The college doesn't just offer classroom experience, it gives learners access to a whole range of other life experiences to broaden horizons and develop creativity and enthusiasm.

Attributes Certificates are awarded at the level learners are currently studying, making it open to all students of all abilities across the college.

Lynsey has gained her Gold Award.

}