D&A signs Carers' Charter
Many of our students at Dundee and Angus College are juggling their studies with caring duties. The College has always been aware of the extra pressures, both emotional and physical placed on these students and has worked to provide as effective a support network as possible.
Now, as part of our commitment to recognising and celebrating the achievements of this remarkable group, the College has signed up to the Dundee Carers' Charter.
This declaration has been developed through the Dundee Carers' Partnership and outlines a commitment to the best service and support available to ensure that carers can continue in their caring role for as long as they want to. By signing up to the Charter the College is committing to
Identifying, acknowledging and valuing carers
Supporting carers
Involving carers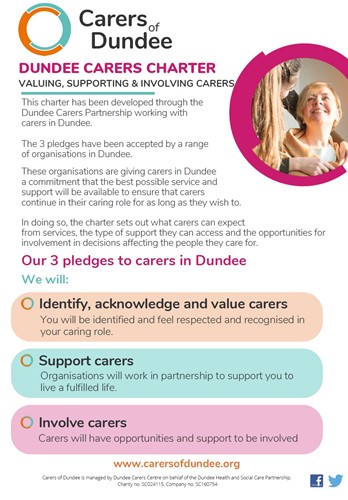 Student Services Manager, Sarah Thom is at the forefront of the College's support network. "Dundee and Angus College have always had our student and staff carers at the heart of what we do. We have a long history of working closely with carers and Dundee Carers Centre to ensure that tailored support and opportunities are available. Signing up to the Charter Mark will continue to show both our student and staff carers that we take our commitment to them seriously. We are constantly evaluating and progressing our work to ensure we offer student and staff CPD, peer support with other carers. We have relevant information on our internal portals and our website about the support that is available to our students carers to enhance their college experience and realise their ambitions."