"College has given me lots of opportunities"
Sport and fitness student, Lois, explains how volunteering through her course at D&A College has helped to boost her confidence.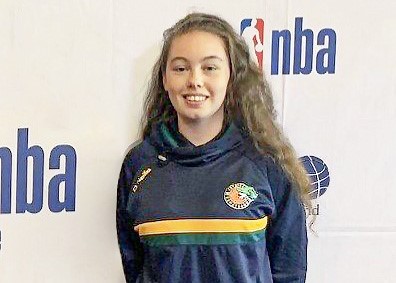 Lois Meek volunteers as a coach at Tayside Musketeers Basketball Club where some of her responsibilities involve delivering and assisting sessions to the Under-10s in Forfar and Arbroath. Here she shares her story . . .
"I have enjoyed every moment of my volunteering over the past year. It has given me so many good opportunities to develop and grow. My favourite part is having a connection with the participants I coach so that they feel able to tell me anything. I also enjoy it when I see kids practising what I have taught them outside of the session – this makes me so proud.
"A highlight of mine is applying to the young people's sports panel which will allow me to have my say on sports within Scotland. I have been given a first interview which has unfortunately been postponed due to Covid-19 but if I'm successful it will allow me to expand my sporting knowledge, speak on sporting opportunities in my local area and make a change.
"College has given me lots of opportunities to participate in different qualifications such as athletics, Boccia, basketball and first aid at work. I have also done disability and inclusion training through the disability sports that I coach.

"I participated in coaching through my course which included making risk assessments, session plans, making sure the participants left the club safely and providing safe and fun sessions.
"I've had to work hard in class to balance out work and volunteering. I also work as a lifeguard so sometimes it's a challenge to fit everything in. Volunteering has helped improve my confidence and given me the chance to work with lots of new people who are established in the sports industry, learning skills and drills from them."
D&A Attributes

D&A College is determined to give its learners much more than qualifications and technical skills. It wants to build a whole series of personal skills and attributes that will help them stand out from the crowd and be very employable.

The college doesn't just offer classroom experience, it gives learners access to a whole range of other life experiences to broaden horizons and develop creativity and enthusiasm.

Attributes Certificates are awarded at the level learners are currently studying, making it open to all students of all abilities across the college.

Lois has gained her Gold Award.

}